EU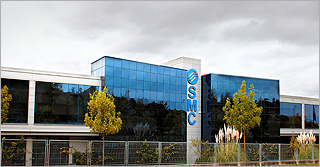 SMC España SA
Zuazobidea 14, 01015 Vitoria, Spain
Phone: +34-945-184-100/+34-902-255-255
Fax: +34-945-184-510
e-mail: post@smc.smces.es
URL https://www.smc.eu/es-es
Number of employees
Approx. 250
Managing Director
German Berakoetxea,
David Gallego
Head office /
Factory building
Land area:14,000m2
Floor space:9,046m2
ISO certification
ISO 9002
In 1990, SMC España, S.A. was founded as an overseas subsidiary of SMC for the sales of products and the provision of services not only in Spain, but also in Portugal.
SMC Spain has its head office in Vitoria, a city in northern Spain.
Their extensive network of sales offices and distributors meet customers' needs in eight designated regions of Portugal and Spain.
The head office with an area of 14,000m2 is annexed by a factory for product assembly and a warehouse.