EU
European Technical Centre (ETC)
SMC European Technical Centre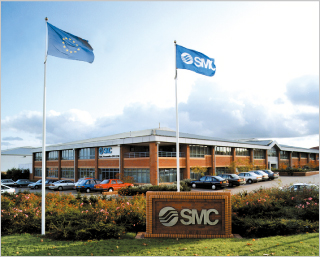 SMC European Technical Centre
Vincent Avenue, Crownhill, Milton Keynes, Buckinghamshire MK8 0AN, United Kingdom
Phone: +44-(0) 1908-55-5206
e-mail:etcadmin@smceu.com
| | |
| --- | --- |
| Number of employees | Approx. 80 |
| General manager | Colin Gibson |
Approximately 80 engineers from eight countries, including Japan, are stationed at the European Technical Centre (ETC) in Milton Keynes, United Kingdom to work on customers' projects.
Communication at the Centre is conducted smoothly in not only English but also in other languages, thereby providing customers with exactly the services they require. Products are researched and developed and special order products are designed at ETC's modernly equipped research facility.
Global Engineering Network
To expediently address customers' problems from around the globe, technical centres have been founded in Japan, Europe, the United States and China. SMC has built a solid global engineering network with Japan at its hub. The technical centres share information resulting in the cooperation and interaction of over 1,000 engineers and the office closest to the customer can respond swiftly to the customer's requests. We can thereby provide technical services of the same high quality everywhere in the world.