-
Global Network
ASIA
New Zealand
SMC Corporation (N.Z.) Ltd.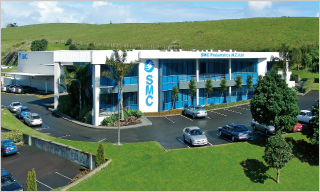 SMC Corporation (N.Z.) Ltd.
5 Pacific Rise Mt Wellington Auckland 1060, New Zealand (P O Box 62-226, Sylvia Park, Auckland, 1644)
Phone: +64-(09) 573-7000
Free toll:0800 1320 762
Fax: +64-(09) 573-7001
e-mail: nzsales@smcanz.com
URL http://www.smcworld.com/en-jp/
Number of employees
Approx. 50
Managing Director
Wayne Driver
Head office /
Factory building
Land area: 5,718m2
Floor space: 2,371m2
ISO certification
ISO 9001
SMC Corporation (N.Z.) Ltd. was established in 1982. In order to provide sales and service throughout the New Zealand market, an extensive network of sales branches and distributors has been established. In addition to the National Warehouse in Auckland, all branch office hold inventory to service the local market. The Engineering and Production departments within the Auckland Head Office designs and manufactures special products to meet customer demands for both the local domestic and overseas export markets. SMC's dedicated team of professionals strives to deliver the highest standard of support by offering solutions to an extensive customer base across a diverse market covering a wide range of industries throughout the length and breadth of New Zealand.