EU
Finland
SMC Automation Oy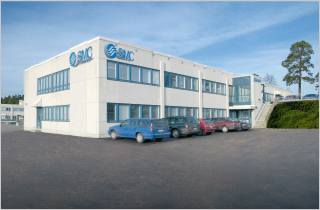 SMC Automation Oy
Tiistinniityntie 4, 02230 Espoo, Finland
Phone: +358-207-513513
e-mail:smcfi@smc.fi
URLhttp://www.smc.fi
Number of employees
Approx. 35
Managing Director
Ossi Ojainmaa
Head office /
Factory building
Land area:7,400m2
Floor space:2,800m2
SMC has been in Finnish market from late 1980s, and the sales volume grew rapidly thereafter. In 2001, SMC Japan established a wholly owned subsidiary in Finland, SMC Automation Oy.
With its head office in Espoo, close to Helsinki, SMC Finland has nine regional sales offices and 100 sales outlets throughout the nation.
SMC Finland does not have a major production facility, instead making effective use of a small assembly department that is well received by customers.
SMC Finland's warehouse, which is the largest in the country and almost ten times the size of its competitors, has an inventory of over 8,000 items from SMC's series of major products. Deliveries reach customers anywhere in Finland within 24 hours.
SMC Finland is making strides in the provision of user services that are commensurate with the status of industry leader.
Main Inventory Series
Directional Control Equipment
SY, SYJ, VQC, VQD, VF, SV, VFN, VFS, EVS, V111, V114, V V100, VP, EVT, VGA342, VDW, VXD, EX
Actuators
C55, C85, C96, CP96, CQ2, MXS, MGP, CJP, RSQ, MK2, CRB, MSQ, MHZ2, MHZL2, MHZJ2, MHF, MHL2, MHC2, MHY2, XT661
Electric Actuators and Cylinders
LE
Modular F.R.L. /
Air Preparation equipment
AF, AR, AW, ARG, ARJ, ARM, ARP, ARX, AL, AFM, VHS, AN, EAV, IR, ITV, VBA
Fittings and Tubings /
Flow control equipment
KJ, KQ2, KDM, KM, KS, KX, TU, TUH, TS, TCU, TRBU, VMG, AS, ASV, AQ, KEA, ASD, ASP, AKH, AKB, AK, ASN, ASR, ASQ, ASS
Vacuum equipment
ZP, ZF, ZH, ZU, ZL, IRV, ZX, ZM
Electric equipment
PPA, PS1000, IS, ISE, ZSE, PSE, PFM, PF2A, PF3W, IZS, IZN, IZF
Air purification equipment
AM, AMC, AMD, AMG, AMH, AMJ, IDG
∗ In addition to the above main stock series, they also carry other stock in response to the requirement of their customers.