-
Global Network
ASIA
Australia
SMC Corporation (Australia) Pty. Ltd.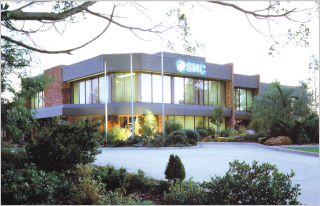 SMC Corporation (Australia) Pty. Ltd.
14-18 Hudson Avenue, Castle Hill, Sydney, New South Wales 2154, Australia
Phone: +61-(02) 93548222
Free toll:1800 763 862
Fax: +61-(02) 93548252
URL http://www.smcworld.com/en-jp/
e-mail ausales@smcanz.com
Number of employees
Approx. 260
Managing Director
Wayne Driver
Head office /
Factory building
Land area:68,890m2
Floor space: 22,656m2
ISO certification
ISO 9001
SMC Corporation(Australia) Pty. Ltd. was established in 1966 as SMC's first overseas local subsidiary, and since then has been providing high-level service to users. In order to ensure quick delivery, SMC Australia established Headquarters Central Distribution Center, which is centrally managed and stocked with more than 15,000 items, in addition to the warehouses of sales branches. Furthermore, a flexible local production system including specialized products allows most of the locally produced products to be delivered within 24 hours of receiving an order.
SMC Australia established an extensive network including the Headquarters and sales branches in major industrial cities such as Brisbane, Adelaide, Melbourne, and Perth to provide advanced customer services. Furthermore, SMC Australia provides support for customers to improve their facility design by demonstrating products using a demonstration van, or regularly inviting customers to new product presentations. In addition, sales branches located in each state use their education and training facility to provide pneumatic circuit training using all-air-circuits, relays, and PLC.
In order to provide a wide range of thorough support services including product presentations and after-sales service, SMC Australia established a support system of 65 technical sales teams inside Australia.
SMC Australia and its sales staff members are aspiring to deliver more satisfaction to customers.