EU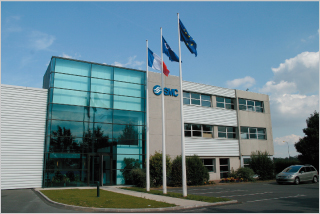 SMC France
1, Boulevard de Strasbourg, Parc Gustave Eiffel Bussy Saint Georges F-77607 Marne La Vallee Cedex 3, France
Phone: +33-1-6476 1000
e-mail: supportclient@smc-france.fr
URL http://www.smc-france.fr
Number of employees
Approx. 250
Managing Director
Olivier Chevalier
Head office /
Factory building
Land area:13,599m2
Floor space:8,344m2
ISO certification
ISO 9001
ISO 14001
SMC France S.A. was founded in 1988.Its headquarters and production facilities are located in Bussy-Saint-Georges, east of Paris.
Through its extensive sales force, and with more than 20 distributors, SMC France delivers excellent product services and technical support to customers, as well as training programs.
To meet customer demands, the manufacturing department produces and assembles cylinders, valve manifolds, simple special and special products.