USA
Chile
SMC Corporation (Chile), S.A.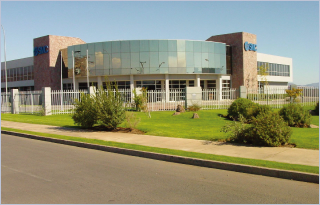 SMC Corporation (Chile), S.A.
Av. La Montana, #1115 P. Norte km. 16,5 Parque Industrial Valle Grande, Lampa, Santiago, Chile
Phone: +56-2-270-86-00
Fax: +56-2-270-86-00
e-mail: gerencia@smcchile.cl
URL http://www.smcchile.cl
Number of employees
Approx. 50
General Director
Shigetada Takada
Head office /
Factory building
Land area:11,715m2
Floor space:3,500m2
SMC Corporation (Chile), S.A. was established in 1984 as a distributor of SMC products. In January 1996, SMC Chile became the 31st subsidiary of SMC Corporation. In fact, SMC Chile S.A. is the most important industrial supplier of automation pneumatics components in Chile. SMC Chile is also responsible for SMC subsidiary and distributors in the Colombian, Peruvian and Ecuadorian markets.
From 2000, SMC Chile's headquarters has operated in a new office in the industrial area of Santiago, with more than 3,500 square meters of land (Floor space: 11,715 square meters).
SMC Chile assembles the series CA, C96 and CP96 cylinders and imports many other lines of SMC products from different subsidiaries around the world to satisfy the Chilean automation market in important fields.