|

Motorless Specification Electric Actuator

A variety of servo motors can be mounted by adding motorless specifications!



Series Variations



Series
Size
25
32
40
63

Slider Type
Ball Screw Drive
LEFS Series

Slider Type
Belt Drive
LEFB Series

High Rigidity Slider Type
Ball Screw Drive
LEJS Series

Rod Type
LEY Series

Guide Rod type
LEYG Series
The values in ●show the equivalent motor capacity.
Compatible Motors by Manufactuer(100W /200W /400W equivalent)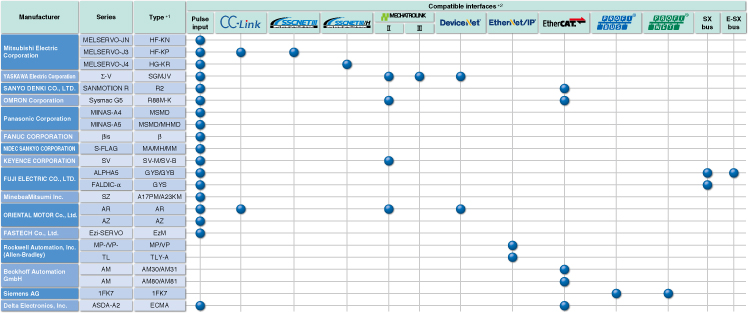 *1 Make sure that the mouting dimensions and motor specifications are appropriate. Select a motor after checking the specifications of each model.
Additionally, when considering a motor other than one of those shown above, select a motor within the range of the specifications after checking the mounting dimensions.
*2 For details on compatible interfaces, refer to each manufacturer's catalog.
Trademark
DeviceNet™ is a trademark of ODVA. EtherNet/IP™ is a trademark of ODVA. EtherCAT® is registered trademark and
patented technology, licensed by Beckhoff Automation GmbH, Germany.