The LE series electric actuators are applicable to Fieldbus protocols.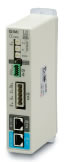 Conversion unit for Fieldbus network and LEC serial communication

Two methods of operation
Step data input: Operate using preset step data in the controller.
Numerical data input: The actuator operates using values such as position and speed from the PLC.
Position, speed, etc. values can be checked on the PLC.