-
Electric Actuators

|

Step Data Input Type Series LECA6
Simple Setting to Use Straight Away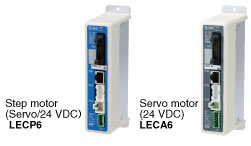 Normal mode for detailed setting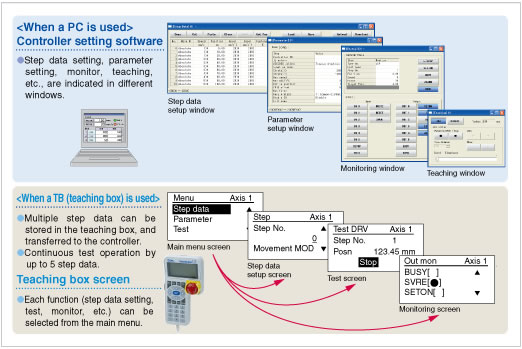 Select normal mode when detailed setting is required.
Step data can be set in detail.
Signals and terminal status can be monitored.
Parameters can be set.
JOG and constant rate movement, return to origin, test operation and testing of forced output can be performed.
|

4 Axis Step Motor Controller (Parallel I/O) Series JXC73/83/93
■4 axis synchronous control
■Linear/circular interpolation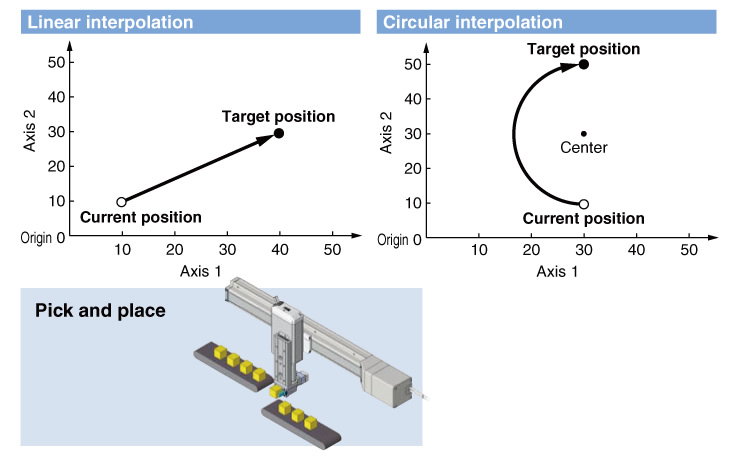 ■Positioning/pushing operation
■Absolute/relative position
coordinates instructions
■Step data input (Max. 2048 points)
4 axis operation can be set collectively in one step.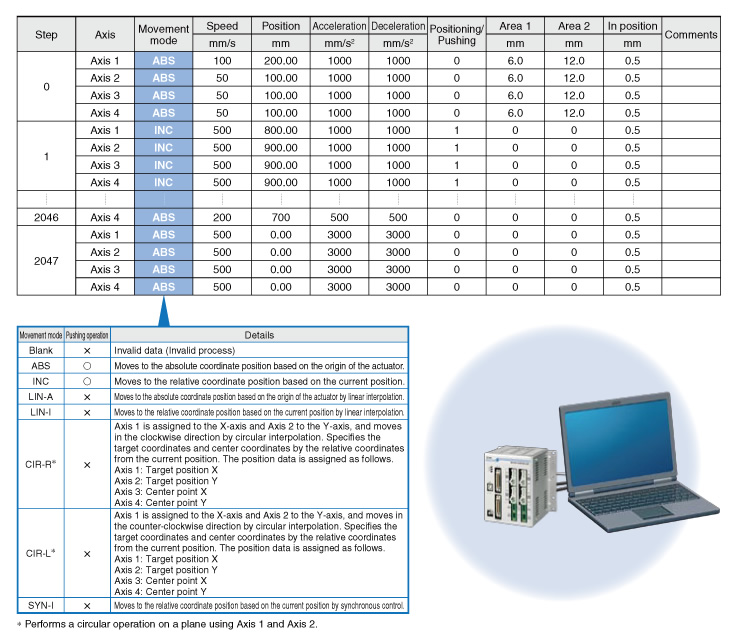 ■Space saving, Reduced wiring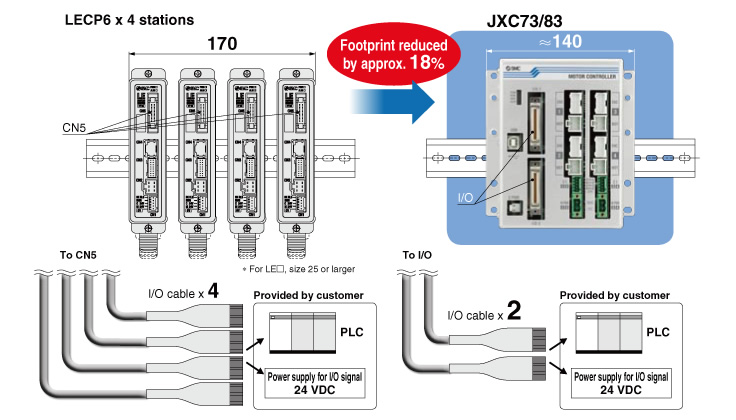 |

Programless Type Series LECP1

No programming
Capable of setting up an electric actuator operation without using a PC or teaching box. No programming.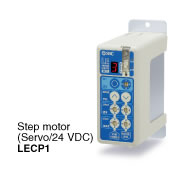 |

Programless Controller

(With stroke study)

Series LECP2
Stroke end operation similar to an air cylinder is possible.
(using the [1] stroke study and [2] reduced wiring below)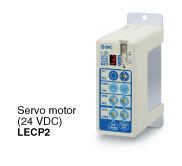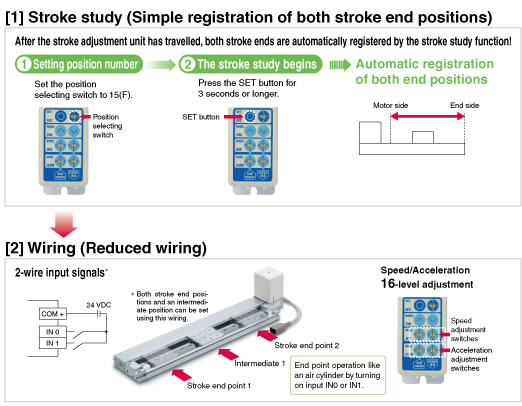 |

Step Motor Driver (Pulse Input Type) Series LECPA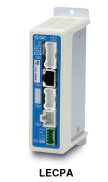 A driver that uses pulse signals to allow positioning at any position.
The actuator can be controlled from the customers' positioning unit.
Return-to-origin command signal
Enables automatic return-to-origin action.
With force limit function (Pushing force/Gripping force operation available)
Pushing force/Positioning operation possible by switching signals.



|

Step Motor Controller JXCE1/91/P1/D1

■5 types of communication protocols

■Both air and electric systems can be established under the same protocol.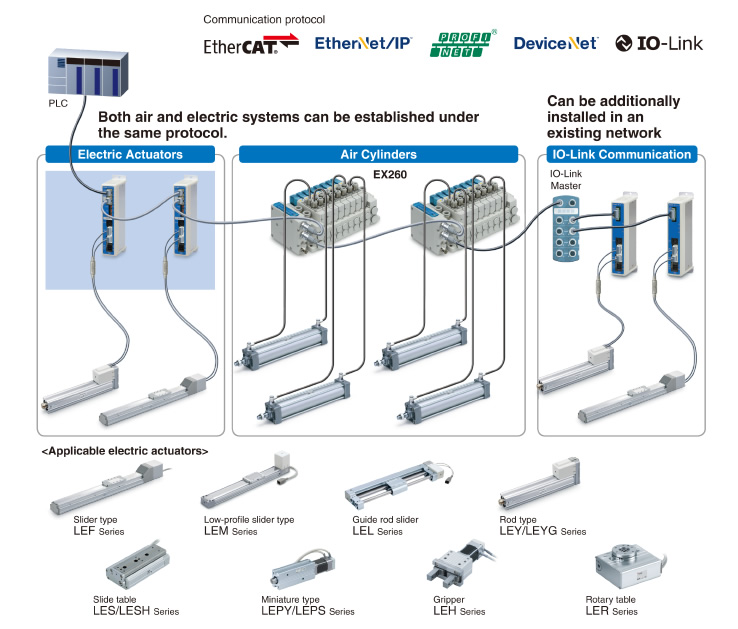 ■Two types of operation command
Step no. defined operation: Operate using the preset step data in the controller.
Numerical data defined operation: The actuator operates using values such as position and speed from the PLC.
■Numerical monitoring available
Numerical information, such as the current speed, current position, and alarm codes, can be monitored on the PLC.
■Transition wiring of communication cables
Two communication ports are provided.
* For the DeviceNet™ type, transition wiring is possible using a branch connector.
* 1 to 1 in the case of IO-Link

■IO-Link communication can be performed.
The data storage function eliminates the need for troublesome resetting of step data and parameters when changing over the controller.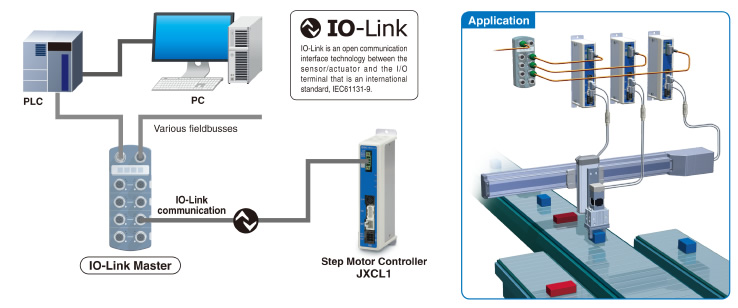 ●Step data and parameters can be set from the master side.
 Step data and parameters can be set or changed by means of IO-Link communication.
●Data storage function
 When the controller is changed, the parameters and step data for the actuator are automatically set.*1
●4-wire unshielded cables can be used.
*1 The "basic parameter" and the "return to origin parameter" are automatically set as the actuator parameters, and the 3 items of data consisting of No. 0 to 2 are automatically set as the step data.
|

AC Servo Motor Controller Series LECS

Compatible motor capacity: 100 W, 200 W, 400 W
Compatible encoder: Incremental type/Absolute type
Servo adjustment using auto gain tuning
With display setting function
|
MECHATROLINK Compatible AC Servo Motor Driver Series LECYM/LECYU
■MECHATROLINK- Ⅱ Type Series LECYM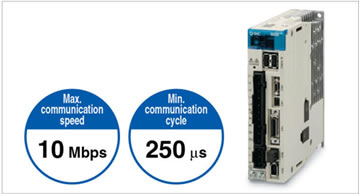 Applicable Fieldbus protocol:

Number of connectable drivers: 30 units
(Transmission distance: Max. 50 m in total)
■MECHATROLINK- Ⅲ Type Series LECYU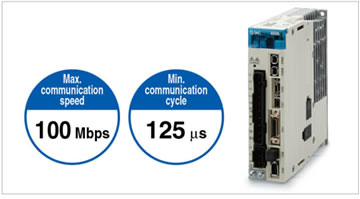 Applicable Fieldbus protocol:

Number of connectable drivers: 62 units
(Transmission distance: Max. 75 m between stations)
Page top