Allows you to select an optimal guide cylinder size suitable for a load to be driven.
This software is the download version. After downloading the software, install it into your personal computer.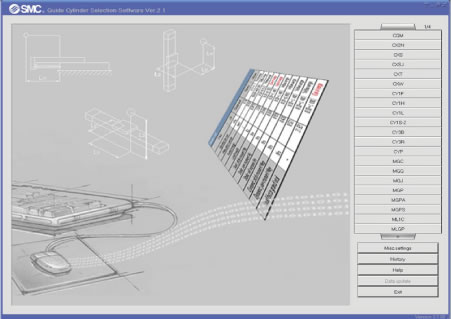 Overview of Guide Cylinder Selection Software
Guide Cylinder Selection Software calculates the operating pressure, piston speed, load weight, moment, and kinetic energy from the input values of the part number, mounting orientation, operating pressure, piston speed, mounting position, load weight, and cushion type, determines whether or not they are within their allowable ranges, and displays the judgement results.

Caution
The sizing and calculation results obtained from this Software can differ from those obtained using actual equipment.
When using any equipment contained in this Software, please read the "Safety Instructions", "Precautions", "Specific Product Precautions" and "Specifications" described in the manual for the equipment.
This Software and the equipment contained in it are subject to change without prior notice.
SMC does not warrant the quality of this Software, including the accuracy of any sizing and calculation results obtained from this Software.
SMC is not responsible for any damage incurred in the use of this Software.
The copyright and any other rights of this Software are owned by SMC, and protected by Japanese copyright laws and international treaty provisions.