Allows you to perform various calculations necessary to improve the pneumatic energy saving.
This software is the download version. After downloading the software, install it into your personal computer.

Ver.4.1.09 2023/06/15 Update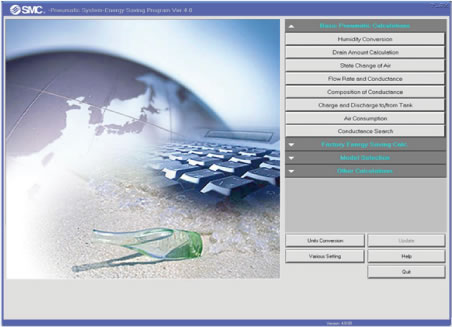 This software greatly contributes to the energy saving of the pneumatic system from the design to the current analysis and improvement simulation!
Calculation of gaseous, liquid, and saturated steam
Search for conductance
Graphing of pressure and flow rate
Simplification of input operations
The sizing and calculation results obtained from this Software can differ from those obtained using actual equipment.
When using any equipment contained in this Software, please read the "Safety Instructions", "Precautions", "Specific Product Precautions" and "Specifications" described in the manual for the equipment.
This Software and the equipment contained in it are subject to change without prior notice.
SMC does not warrant the quality with this Software including any of the accuracy of the sizing and calculation results obtained from this Software.
SMC is not responsible for any damage incurred in the use of this Software.