WEB Catalog
My List
My List Guide


Product List
Subject ⁄ Industry Classified Products

Pilot Operated 4/5 Port Solenoid Valves
5-Port Solenoid Valve
VF1000/3000/5000
・Built-in full-wave rectifier (AC)
・Built-in strainer in the pilot valve
・Manifold type no.: VV5F1, VV5F3, VV5F5
Series
Flow rate characteristics
4/2→5/3 (A/B→EA/EB)
C[dm3/(s・bar)]
Flow rate characteristics
4/2→5/3 (A/B→EA/EB)
b
Flow rate characteristics
4/2→5/3 (A/B→EA/EB)
Cv
Applicable
cylinder size
Power
consumption
(W)

VF1000

0.53

0.28

0.13

φ40

1.55(Standard)
0.55(With power saving circuit)
0.4 (Low wattage specification)

VF3000

3.1

0.32

0.75

φ80

1.55(Standard)
0.55(With power saving circuit)
0.4 (Low wattage specification)

VF5000

10.0

0.49

2.9

φ125

1.55(Standard)
0.55(With power saving circuit)
5-Port Solenoid ValveVF1000/3000/5000
| Series | Download |
| --- | --- |
| VF1000 | |
| VF3000 | |
| VF5000 | |

Low wattage specification added
Power consumption
0.35 W (Without light)
0.4 W (With light)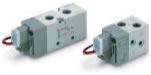 Reduced power consumption
0.55 w [With power saving circuit]
1.55 w [Standard]
(Conventional: 2.0 W)
※With DC light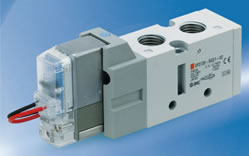 Power consumption is reduced by power saving circuit.
Power consumption is decreased by approx. 1/3 by reducing the wattage required to hold the valve in an energized state. (Effective energizing time is over 40 ms at 24 VDC.) Refer to electrical power waveform as shown below.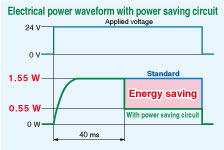 »Click the photograph to enlarge.
Built-in full-wave rectifier (AC)
Noise reduction
Noise is considerably reduced by changing it to DC mode with a full-wave rectifier.


Reduced apparent power
Conventional: 5.6 VA → 1.55 VA
▲Page top