Product Information » New Products Category
New Products
Rotary Actuators/ Air Grippers
Air Grippers for Collaborative Robots RMH□ Series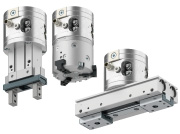 Updated Sep-23
Unitization of the peripheral devices required for gripper driving
Operation is possible simply by connecting 1 air supply tube and
1 electrical wire.
Built-in solenoid valve, exhaust throttle valve with silencer, auto switch, fitting, etc.
3 types of grippers available for use with a variety of workpieces
Can be used with the collaborative robots of 12 companies
Manual changer built in as standard
Allows for easy tool changing and labor saving
Air consumption reduced by up to 80%
Grippers for Collaborative Robots ZXP7-PFL1-□-X1, JMHZ2-X7500-KR for KAWADA ROBOTICS CORPORATION, NEXTAGE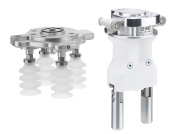 Updated Feb-23
Cups with Flange

Standards: Conforming to ISO9409-1-50-4-M6
Tube-less piping
Individual piping to suction cups is unnecessary and there is no interference with workpieces or operators
A wide variety of cup variations are available to support a wide range of workpieces.



Air Gripper

Compact, lightweight product with high gripping force due to air operation
An air gripper that realizes high rigidity and high precision due to its guide-integrated construction
With high-precision linear guide
Repeatability: ±0.01 mm
Standards: Conforming to ISO9409-1-50-4-M6
Rotary Table/Rack & Pinion Type Size:10, 20, 30, 50 MSQ Series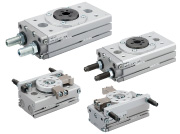 Updated May-22
An external shock absorber option has been added.

[New]

Compact and lightweight
Height: Max. 28% reduction∗ (54 mm → 39 mm)
Weight: Max. 28% reduction∗ (940 g → 680 g)
Enlarged center hole diameter for piping (ø9 mm → ø12 mm)
* Compared with the existing model (MSQ20)
The adjustable rotation time range is expanded. (0.2 to 2.0 s/90°)
Can be used at lower speeds compared with the existing model
Rotary Actuators CRB/CDRB Series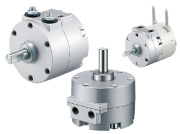 Updated Feb-22
A 270° rotating angle specification has been added. (Size: 10, 15, 40)

[New]

Features a compact body with a built-in angle adjustment unit and
auto switch unit (Size: 20, 30, 40)
Overall length: 44% shorter, Weight: 48% lighter
Piping, wiring, and angle adjustment can be performed on the same side for easier mounting.
Easy-to-adjust start and end positions with the angle adjustment bolts
(as standard)
The position of the chamfered portion of the shaft can be easily checked using the rotating angle indicator. (Only for the CDRB with auto switch)
Each of the units below for the CRB2 series can be mounted to the CRB series.
Low Profile Air Gripper ø8, ø12, ø16, ø20 MHF2 Series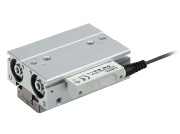 Updated Nov-21
An actuator position sensor compatible type has been added.

[New]

Height dimension reduced to approximately 1/3
Low profile design that reduces moment generation
Short, middle, and long strokes are available.
Compact, but the double piston mechanism provides it with a strong gripping force.
Air Gripper Unit for Collaborative Robots JMHZ2-X7500-KA
for the Kawasaki Heavy Industries, Ltd. duAro 1, 2 Series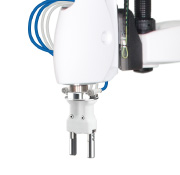 Updated Aug-21
Compact, lightweight product with high gripping force due to air operation
An air gripper that realizes high rigidity and high precision due to its guide-integrated construction
With high-precision linear guide, Repeatability: ±0.01 mm
Linear guide of the higher rigidity and precision is used. Higher rigidity
Integrated speed adjustment mechanism
A split protective cover for easy air gripper maintenance
Selectable attachment, protective cover, and number of auto switches
Compact Type Parallel Style Air Gripper JMHZ2 Seriess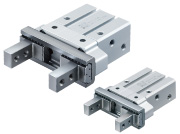 Updated Jun-21
A single acting type has been added.

[New]

Made-to-order options have been added:

[New]


With positioning pins on the lateral mounting surface, Lateral auto switch mounting
Downsizing is possible without changes to the gripping point range. (ø20→ø16)
Overall length: Max. 21.7 mm shorter (102.7 mm→81 mm)
Thickness: Max. 7.6 mm shorter (33.6 mm→26 mm)
Weight: Max. 180 g lighter (420 g→240 g)
High rigidity and precision are achieved by integrating the guide and finger.
Air Gripper Unit for Collaborative Robots JMHZ2-X7400B-CRX
for the FANUC CORPORATION CRX Series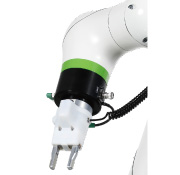 Updated May-21
Plug and Play configuration for immediate use
FANUC CRX plug-in software: Easy programming
Compact, lightweight product with high gripping force due to air operation
High rigidity and high precision due to its guide-integrated construction
Repeatability: ±0.01 mm due to the adoption of a high-precision linear guide
Higher rigidity due to the adoption of a linear guide of the higher rigidity and precision
Operate by simply connecting 1 air supply tube and an electrical
wiring M8 connector.
Integrated solenoid valve, speed adjustment mechanism, and auto switch
A split protective cover for easy air gripper maintenance
Air Gripper Unit for Collaborative Robots JMHZ2-X7400B-TM
for the OMRON Corporation and TECHMAN ROBOT Inc. TM Series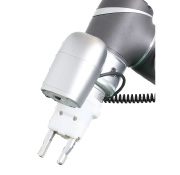 Updated Dec-20
Plug and Play configuration for immediate use
Compact, lightweight product with high gripping force due to air operation
Operate by simply connecting 1 air supply tube and an electrical wiring M8 connector.
Integrated solenoid valve, speed adjustment mechanism, and auto switch
High rigidity and high precision due to its guide-integrated construction
A split protective cover for easy air gripper maintenance
Air Gripper Unit for Collaborative Robots JMHZ2-X7400B-ASSISTA
for the Mitsubishi Electric Corporation MELFA ASSISTA Series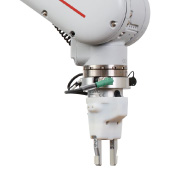 Updated Dec-20
Compact, lightweight product with high gripping force due to air operation
Operate by simply connecting 1 air supply tube and an electrical wiring M12 connector.
Integrated solenoid valve, speed adjustment mechanism, and auto switch
High rigidity and high precision due to its guide-integrated construction
A split protective cover for easy air gripper maintenance
Air Gripper Unit for Collaborative Robots JMHZ2-X7400B-HC10/HC10DT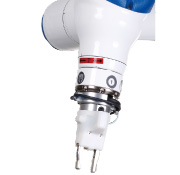 Updated Dec-20
Compact, lightweight product with high gripping force due to air operation
1 air supply tube and the electric wiring can be operated simply by connecting the annex cable.
Integrated solenoid valve, speed adjustment mechanism, and auto switch
High rigidity and high precision due to its guide-integrated construction
A split protective cover for easy air gripper maintenance
Air Gripper with Finger Changer Function MHF2-X7076A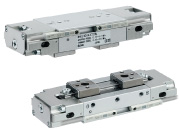 Updated Nov-20
Automatic tool changer unit for robots
The wiring and piping are bundled together in the body of the air gripper (robot side).
Improves electric contact during tool changes, reduces air leakage due to defective piping connections, etc.
Various workpieces can be handled by a single robot.
Increased productivity due to reduced attachment replacement and positioning work
Overall length: Reduced by 82% or more
Weight: Reduced by 69% or more (485 g → 150 g)
Environmentally Resistant 3-Finger Air Gripper ø32, ø63 MHS3-X6708□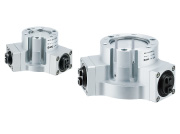 Updated Aug-20
Applicable for environments with water droplets and dust
Durability: 10 times or more (Compared with the standard model in environments with water splashing)
A variety of scrapers and Lube-retainers for various applications (environments) are available.
Improved attachment position reproducibility
Solid state auto switches are mountable.
Applicable auto switch: D-M9□
Air Gripper Unit for Collaborative Robots JMHZ2-X7400B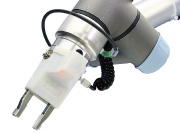 Updated May-20
Plug & play configuration for immediate use
URCap compatible Easy programming
Compact, lightweight product with high gripping force due to air operation
Operate by simply connecting 1 air supply tube and an electrical wiring M8 connector.
Integrated solenoid valve and speed adjustment mechanism
Standards: ISO9409-1-50-4-M6