WEB Catalog
My List
My List Guide


Product List
Subject ⁄ Industry Classified Products

Electric Actuator/Low Profile Slider Type
LEM
・Low-profile, Low center of gravity Table height: 28 mm
 (In the case of LEMC/H/HT, size 25)
・Can be combined with various guides
・High maintainability
・Motor mounting position: Select from above or below, right or left
・Solid state auto switches can be mounted for limit confirmation and intermediate
 signal confirmation.
・Selectable controllability (Controller)
 Complete control like an air cylinder (Allows for a 12 point intermediate stop)
 Easy position setting by value input
Guide type
Model
Stroke
(mm)
Work load
(kg)
Speed
(mm/s)
Equivalent lead
(mm)

Basic

LEMB

50 to 2000

6,11

Max. 1000

48

Cam follower guide

LEMC

50 to 2000

10,20

Max. 1000

48

Linear guide (Single axis)

LEMH

50 to 1500

10,20

Max. 2000

48

Linear guide (Double axis)

LEMHT

100 to 1500

10,20

Max. 2000

48
Electric Actuator/Low Profile Slider TypeLEM
| Model | Download |
| --- | --- |
| LEMB | |
| LEMC | |
| LEMH | |
| LEMHT | |

■Compact, Low Profile
Table height: 28mm (For LEMC/H/HT, size 25)
Table height reduced by using belt drive and offset guide.
Mounting interchangeable with the E-MY series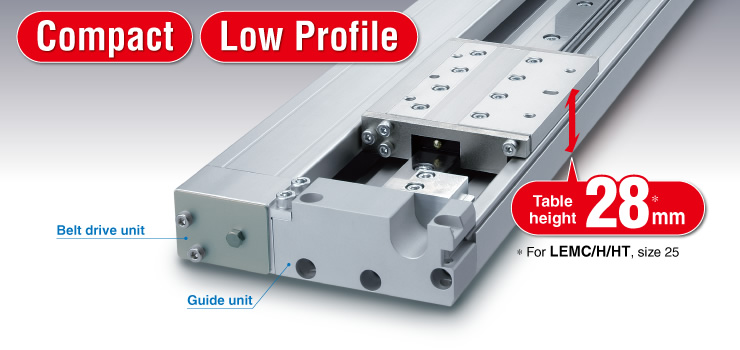 ■Guide mechanism can be selected.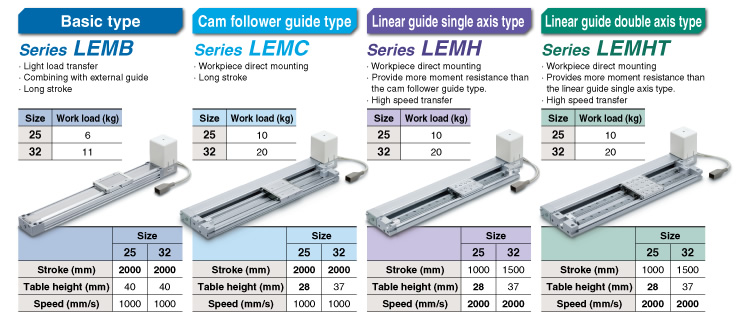 ■Selectable controllability (Controller)
End to end operation similar to an air cylinder (12 intermediate stop positions)
Easy position setting using numerical inputs

■Mounting interchangeable with the conventional E-MY series

Can be connected to various types of guide. (Series LEMB)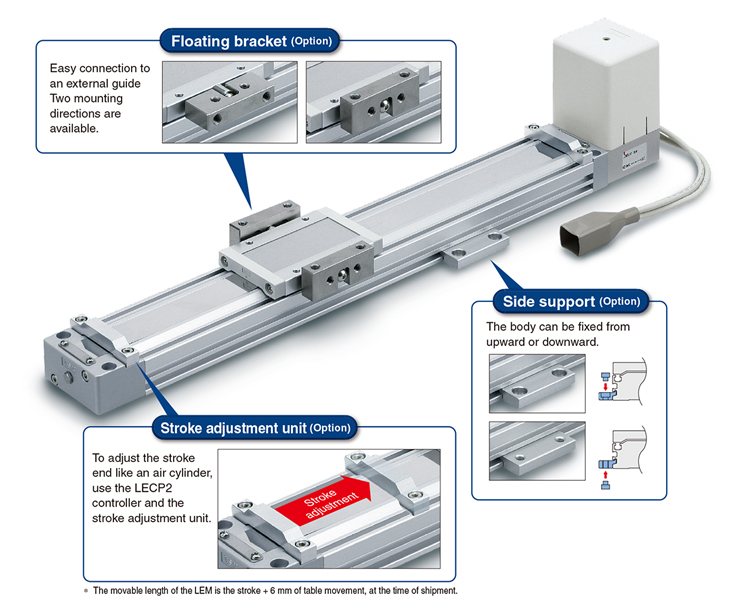 ■Motor Placement: Mounting position of the motor is user selectable and can either be on the top, bottom, left, or right of the actuator.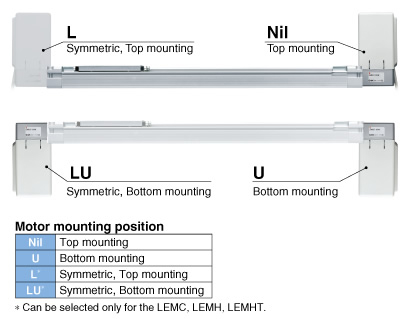 ■Solid state auto switch can be mounted for checking the limit and intermediate signal.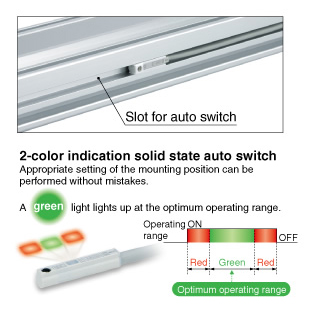 ▲Page top