Slider Type
Electric Actuator/Slider Type High Rigidity Guide LEKFS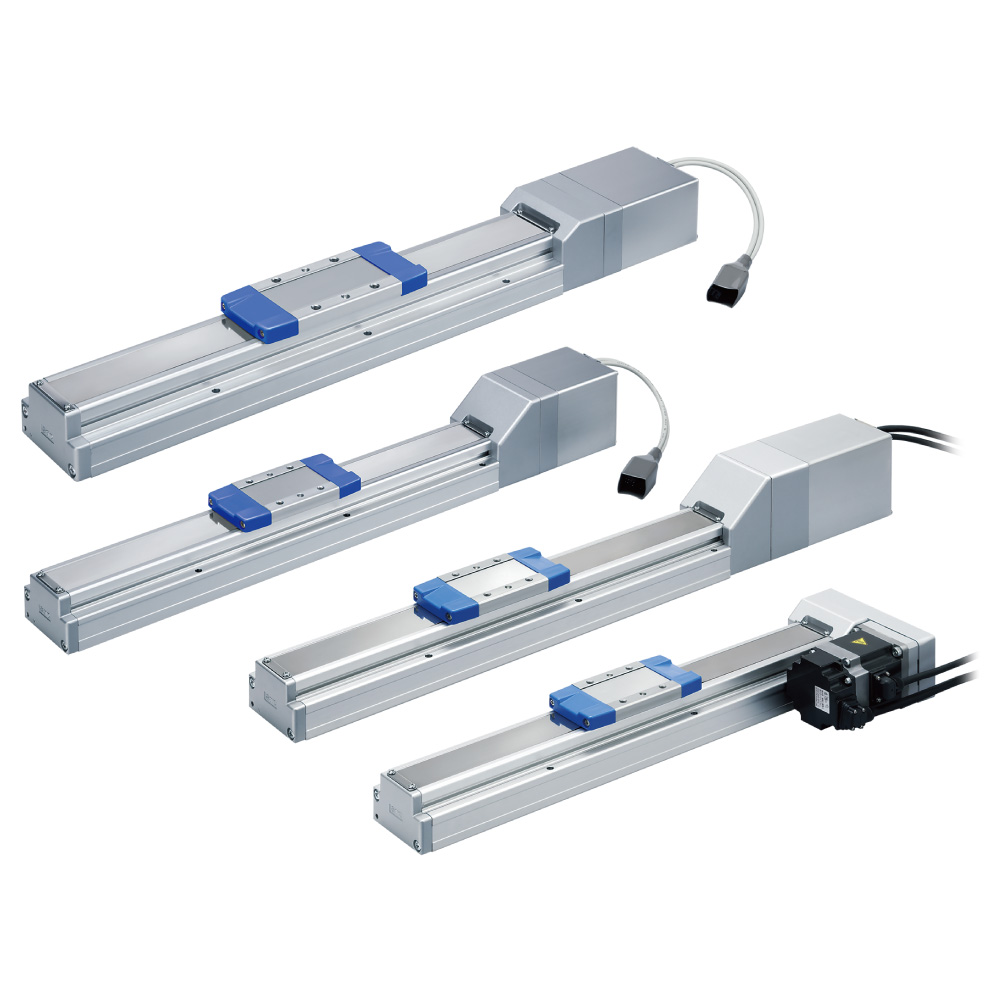 ・Circular arc grooves allow for high rigidity and high precision.
・Moment resistance improved by up to 61%
・Table displacement reduced by up to 50%
・With internal battery-less absolute encoder
 Restart from the last stop position is possible after recovery of
 the power supply.
 Reduced maintenance (No need to manage or replace batteries)
・Positioning repeatability: ±0.01 mm
2D/3D CAD

The new SMC CAD SYSTEM, CADENAS, allows you to output 2D/3D CAD data with full part numbers in various data formats. Responses to part number selection has been greatly improved with the newly developed system.

Click here for 2D/3D CAD

Electric Actuator/Slider Type High Rigidity Guide LEKFS

Manual
Specification
Model
Stroke
(mm)
Work load (kg)
Horizontal
Speed
(mm/s)
Screw
lead
(mm)

Battery-less absolute
(Step motor/24 VDC)
LEKFS16
50 to 500
Max. 15
Max. 700
5,10
Battery-less absolute
(Step motor/24 VDC)
LEKFS25
50 to 500
Max. 30
Max. 1100
6,12,20
Battery-less absolute
(Step motor/24 VDC)
LEKFS32
50 to 500
Max. 50
Max. 1200
8,16,24
Battery-less absolute
(Step motor/24 VDC)
LEKFS40
50 to 500
Max. 65
Max. 1200
10,20,30
AC servo motor
LEKFS25
50 to 800
Max. 20
Max. 1500
6,12,20
AC servo motor
LEKFS32
50 to 1000
Max. 45
Max. 1500
8,16,24
AC servo motor
LEKFS40
150 to 1200
Max. 60
Max. 1500
10,20,30
Features
Circular arc grooves allow for high rigidity and high precision.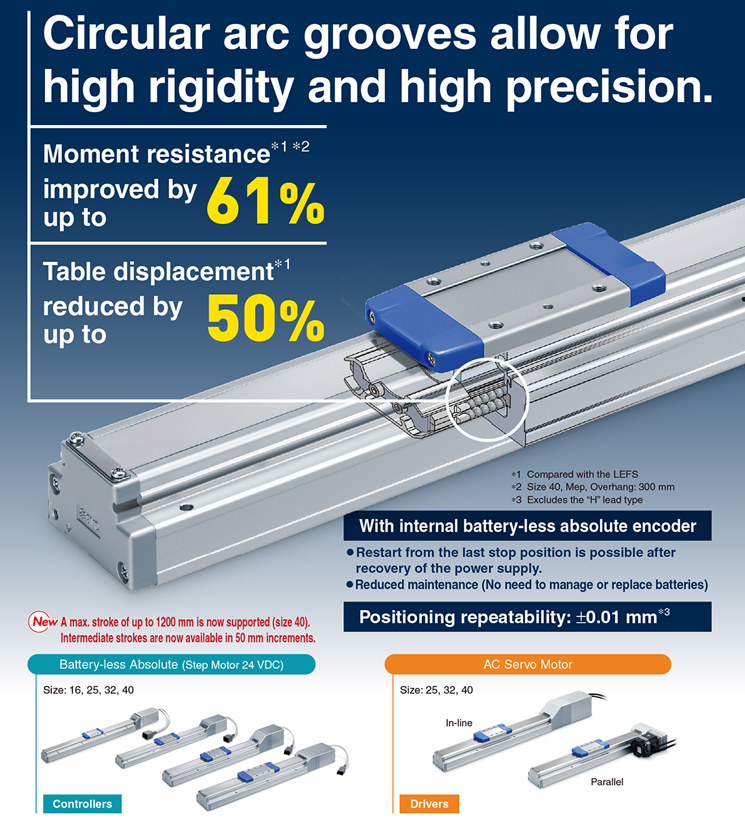 With a 4-row circular arc on each side for high rigidity and high precision (zero clearance)
・Improved moment resistance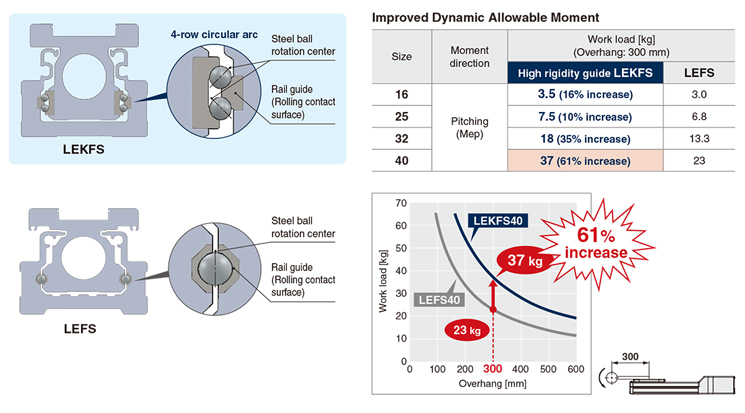 ・Table displacement amount reduced to 1/2

・Zero table clearance

Auto switches are mountable.
Allows for position detection of the table throughout the stroke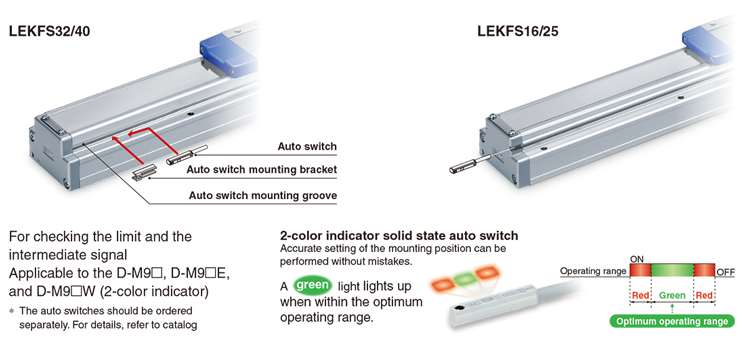 Same dimensions as the LEF/Complete mounting compatibility is ensured.
∗ Excludes size 16

The body bottom positioning pin holes have been standardized.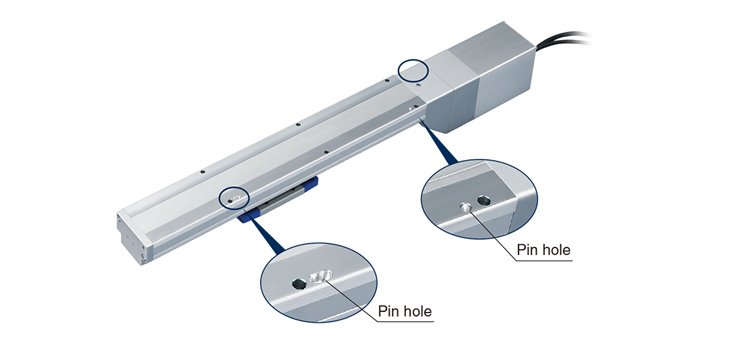 Magnet for adhesion of the dust seal band
Improved adhesion enhances the dustproof performance and reduces dust seal band blistering.

Application Examples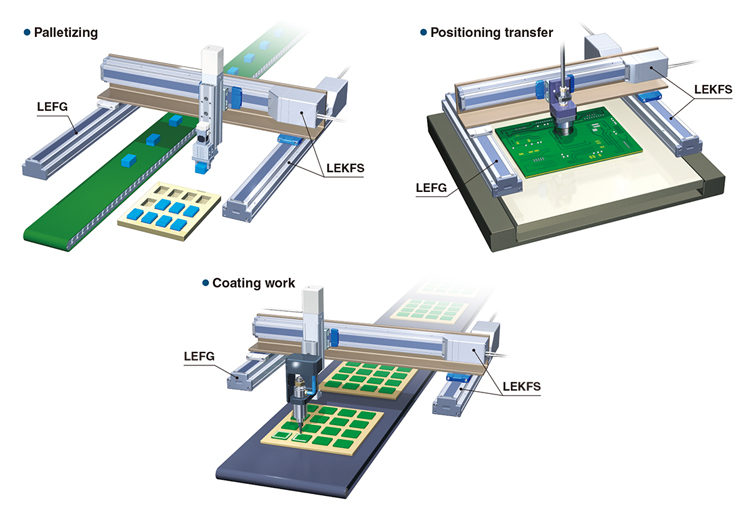 Variations