Detection Switches
Digital Flow Switch PFM7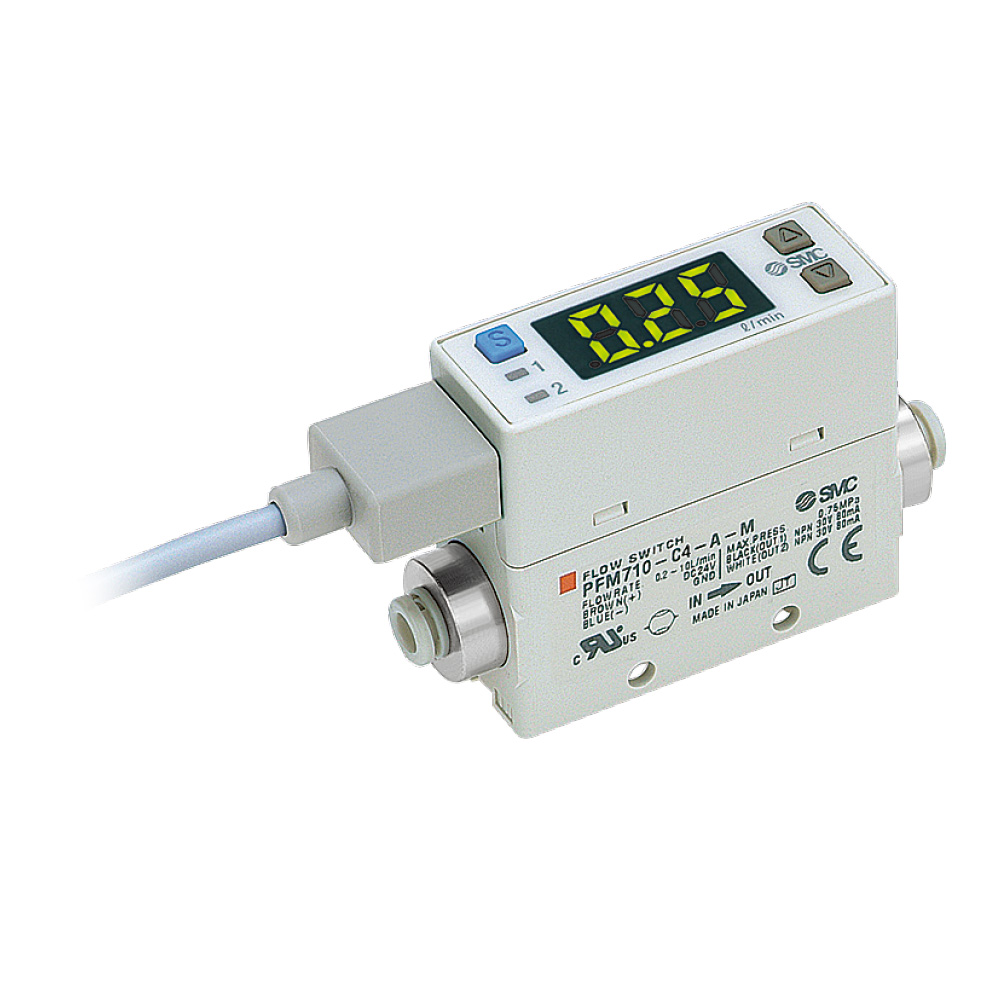 ・Compatible with Argon (Ar), Carbon Dioxide
 (CO2) and the Mixed Gas (Ar+CO2)
・Allows flow rate control and value management of shielding gas
・Minimum unit setting: 0.01 L/min
・Repeatability: ±1%F.S.
・Grease-free
・Flow adjustment valve is integrated. (Reduced piping and space saving)
・Response time: Either 50 ms, 0.5 s, 1 s or 2 s can be chosen.
Digital Flow Switch PFM7

Manual

Digital Flow Switch PFM7

DoC
Series
Applicable fluid
Rated flow range(L/min)
PFM7
Dry air, N2, Ar, CO2
0.2 to 10(0.2 to 5)
0.5 to 25(0.5 to 12.5)
1 to 50(1 to 25)
2 to 100(2 to 50)
( ): For CO2
PFM7-X731
Compatible with argon (Ar) and carbon dioxide (CO2) mixed gas
0.2 to 7
0.5 to 25
0.5 to 20
1.0 to 50
1.0 to 40
2 to 100
2 to 90
2 to 80
3-Screen Display High-Precision Digital Pressure Switch ISE20B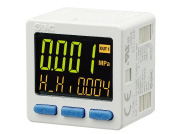 ・Setting is possible while checking the measured value.
・Allows pressure control and value management of shielding gas.
・Compatible with Argon (Ar), Carbon Dioxide
 (CO2) and the Mixed Gas (Ar+CO2)
3-Screen Display High-Precision Digital Pressure Switch ISE20B

Manual

3-Screen Display High-Precision Digital Pressure Switch ISE20B

DoC
Series
Output type
Type
Rated pressure range
Enclosure
Applicable fluid
ISE20B
2 outputs
Analog output
(Voltage/Current)
Switch: 1 output
Positive pressure
−0.100~1.000MPa
IP65
Air