Pilot Operated 3 Port Solenoid Valves
3-Port Solenoid Valve/Pilot Operated Poppet Type VP300/500/700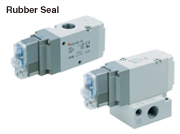 ・Built-in full-wave rectifier (AC)
・Longer life expectancy: 50 million cycles or more
・Built-in strainer in the pilot valve
・The external pilot type can be used for vacuum applications.
・Manifold type no.: VV3P3, VV3P5, VV3P7
2D/3D CAD

The new SMC CAD SYSTEM, CADENAS, allows you to output 2D/3D CAD data with full part numbers in various data formats. Responses to part number selection has been greatly improved with the newly developed system.

Click here for 2D/3D CAD

3-Port Solenoid Valve/Pilot Operated Poppet Type VP300/500/700

Manual

3-Port Solenoid Valve/Pilot Operated Poppet Type VP300/500/700

DoC
Series
Flow rate characteristics
2→3(A→P)
C[dm3/(s・bar)]
Flow rate characteristics
2→3(A→P)
b
Flow rate characteristics
2→3(A→P)
Cv
Power
consumption
(W)
For use
in vacuum
applications
VP300
4.2
0.23
1.0
1.55(Standard)
0.55(With power saving circuit)
0.4(Low wattage specification)
-100 kPa
VP500
8.9
0.20
2.1
1.55(Standard)
0.55(With power saving circuit)
0.4(Low wattage specification)
-100 kPa
VP700
15.3
0.22
3.7
1.55(Standard)
0.55(With power saving circuit)
-100 kPa
Features
Low wattage specification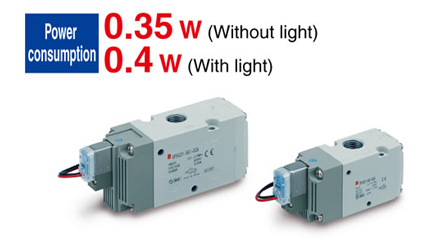 Power consumption is reduced
0.55 W [With power saving circuit]
1.55 W [Standard]
* Conventional model: 2.0 W With DC light
Power consumption is reduced by power saving circuit.
Power consumption is decreased by approx. 1/3 by reducing the wattage required to hold the valve in an energized state.
(Effective energizing time is over 40 ms at 24 VDC.)
Refer to electrical power waveform as shown below.

Built-in full-wave rectifier (AC)
Noise reduction
Noise is considerably reduced by changing it to DC mode with a full-wave rectifier.
Reduced apparent power
Conventional 5.6 VA → 1.55 VA [Standard]
Longer life expectancy: 50 million cycles or more
(Conventional: 20 million cycles)
* Based on SMC test conditions.
Built-in strainer in the pilot valve
Unexpected troubles due to foreign matter can be prevented.
Note) Be sure to mount an air filter on the inlet side.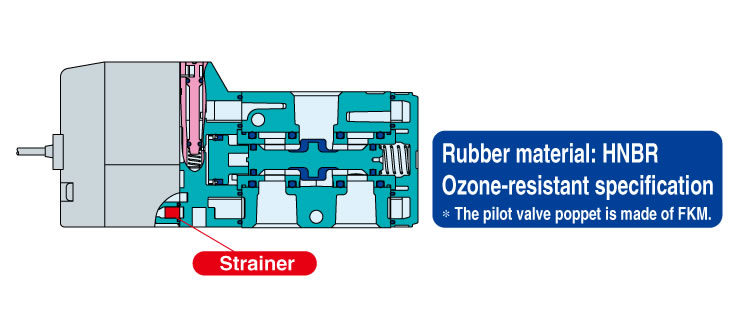 Air Operated Valve Series VPA300/500/700