Industrial Device Communication Equipment: IO-Link Compatible Products
3-Screen Display Digital Gap Checker/IO-Link Compatible ISA3-L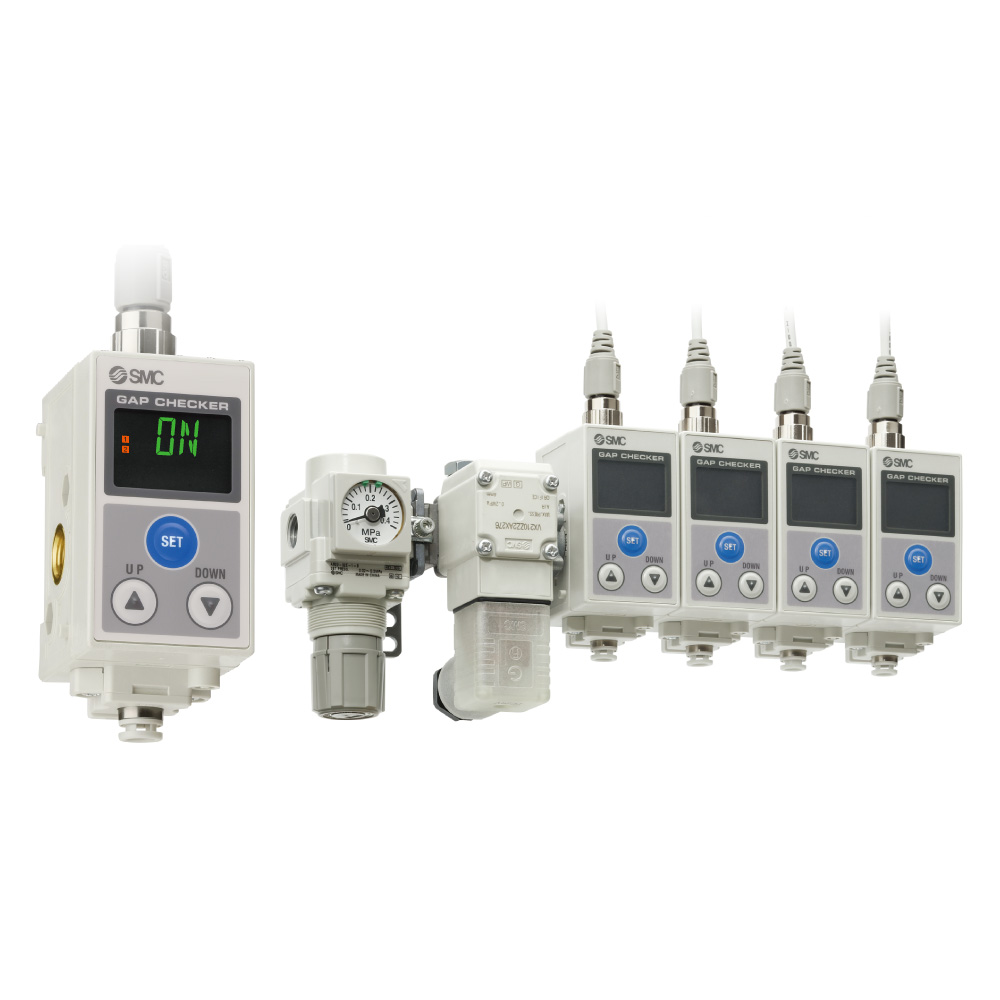 ・Monitoring the placement condition of the workpiece Indicates failure/abnormality
・Double sensor providing improved preventive and predictive maintenance (IoT) based on IO-Link
 Process data provides Displayed value, Outlet pressure, and Supply pressure value.
・NPN/PNP switch function
・3-screen display (Setting)
・Window comparator type
・Zero cut-off range can be changed.

 ▶IO-Link Master
2D/3D CAD

The new SMC CAD SYSTEM, CADENAS, allows you to output 2D/3D CAD data with full part numbers in various data formats. Responses to part number selection has been greatly improved with the newly developed system.

Click here for 2D/3D CAD

3-Screen Display Digital Gap Checker/IO-Link Compatible ISA3-L

Manual
| Series | Rated distance range | Piping specifications: Supply side | Piping specifications: Detection side |
| --- | --- | --- | --- |
| ISA3-F□L | 0.01 to 0.03 mm | Rc, G 1/8 | φ4, φ6 One-touch fitting, G 1/8 |
| ISA3-G□L | 0.02 to 0.15 mm | Rc, G 1/8 | φ4, φ6 One-touch fitting, G 1/8 |
| ISA3-H□L | 0.05 to 0.30 mm | Rc, G 1/8 | φ4, φ6 One-touch fitting, G 1/8 |
Features
Monitoring the placement condition of the workpiece Indic ate s failure / abnormality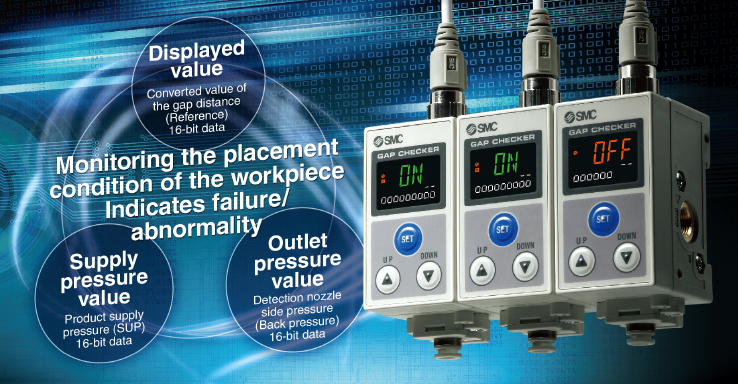 Double sensor providing improved preventive and predictive maintenance (IoT) based on IO-Link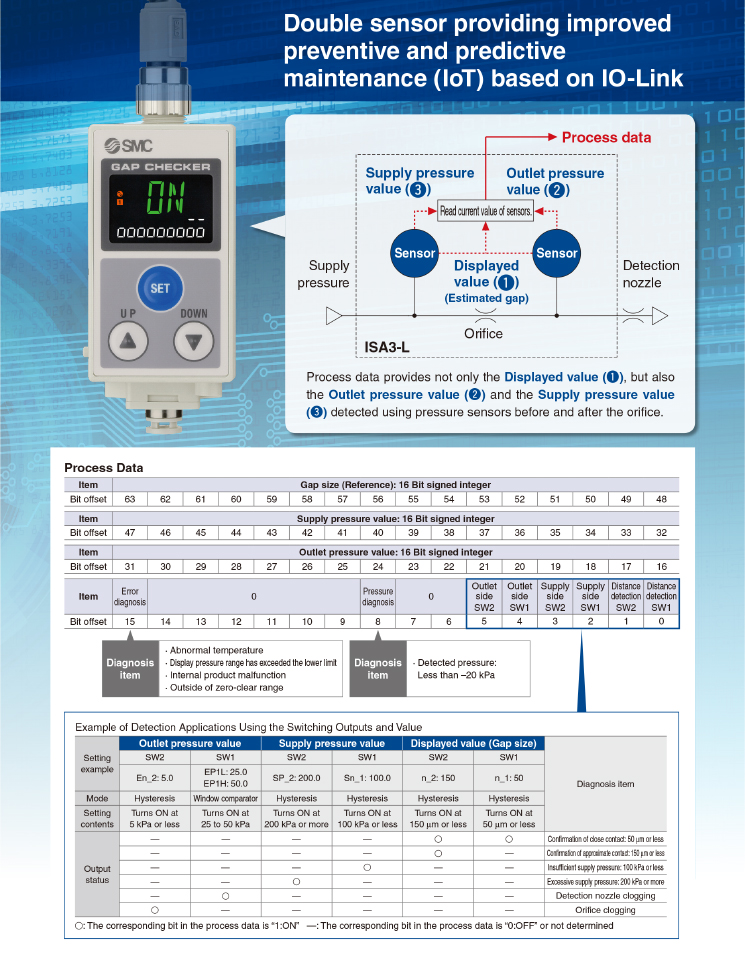 Process data provides Displayed value , Outlet pressure and Supply pressure value .
Not only the displayed value, but also the pressure value (supply pressure, outlet pressure) which affect the detection can be transmitted in real time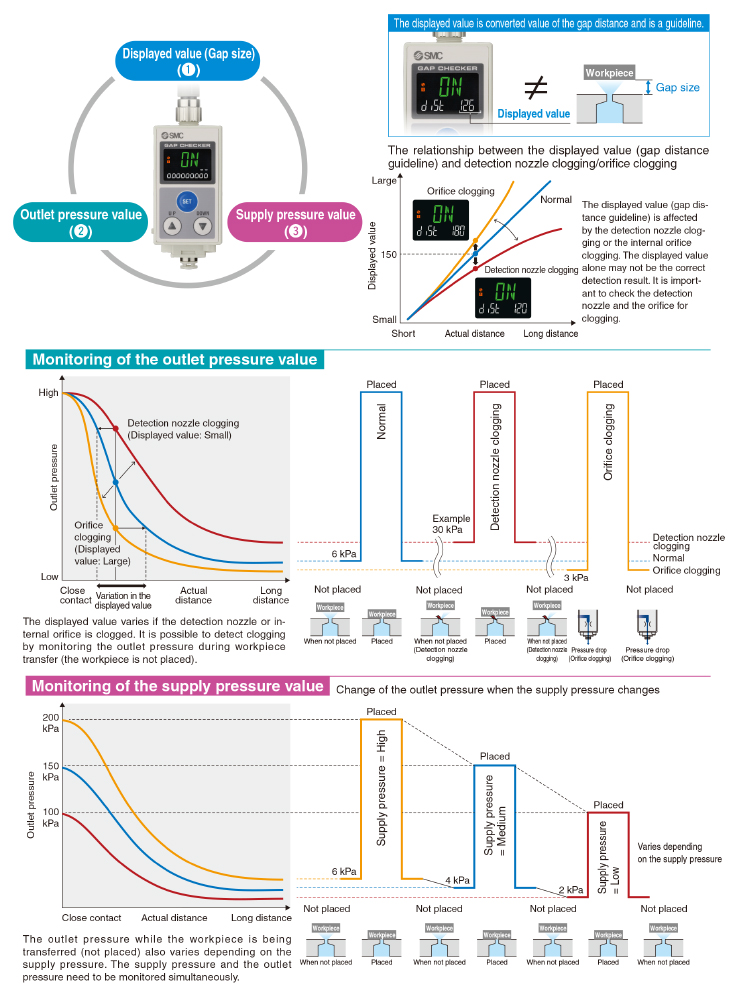 IO-Link
IO-Link is an open communication interface technology between the sensor/actuator and the I/O terminal that is an international standard, IEC61131-9.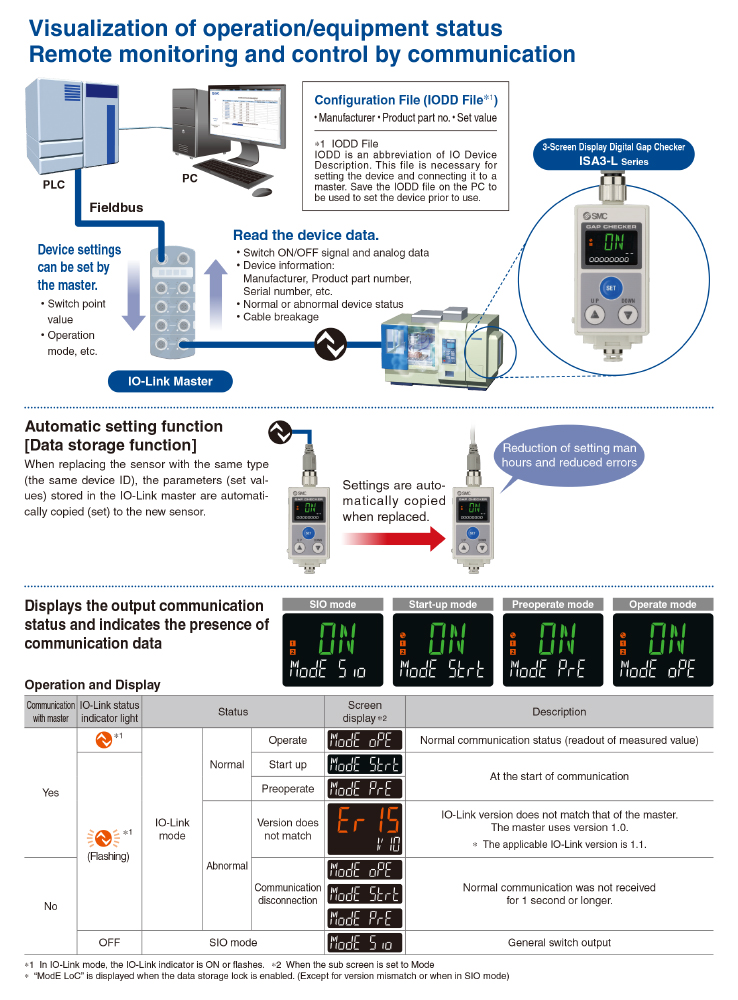 Sub display improved for ease of use
3-Step Setting (Switch Point Change Mode)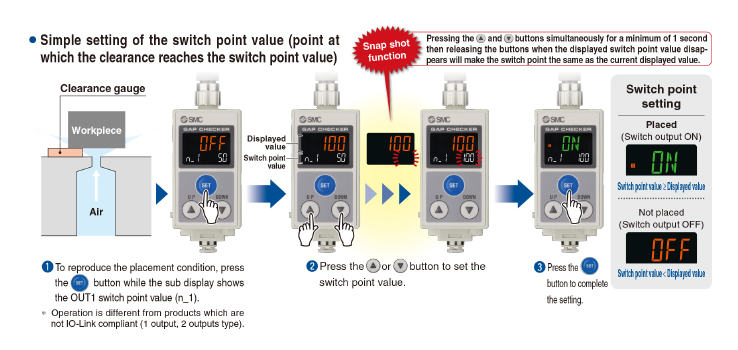 3-Screen Digital Display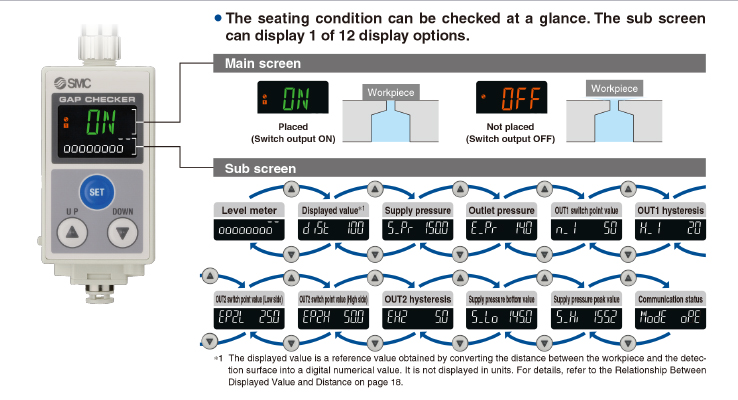 Rated Distance Range: 3 types are available.

3 Setting Modes
Select the setting mode that best meets your needs.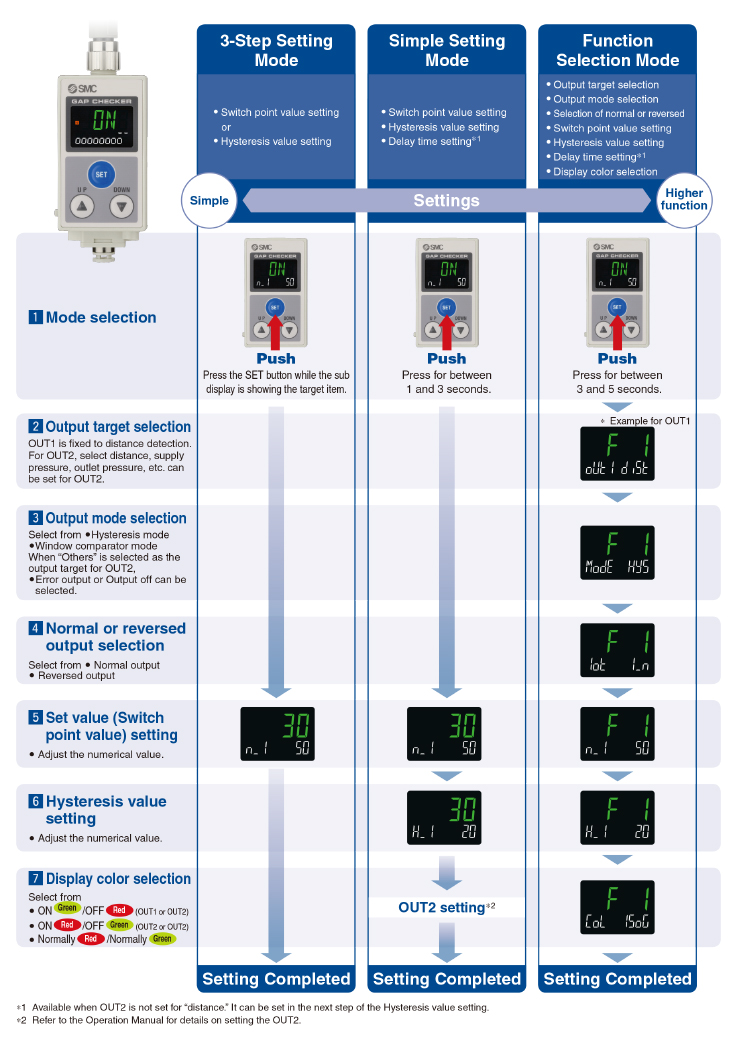 2 Outputs Type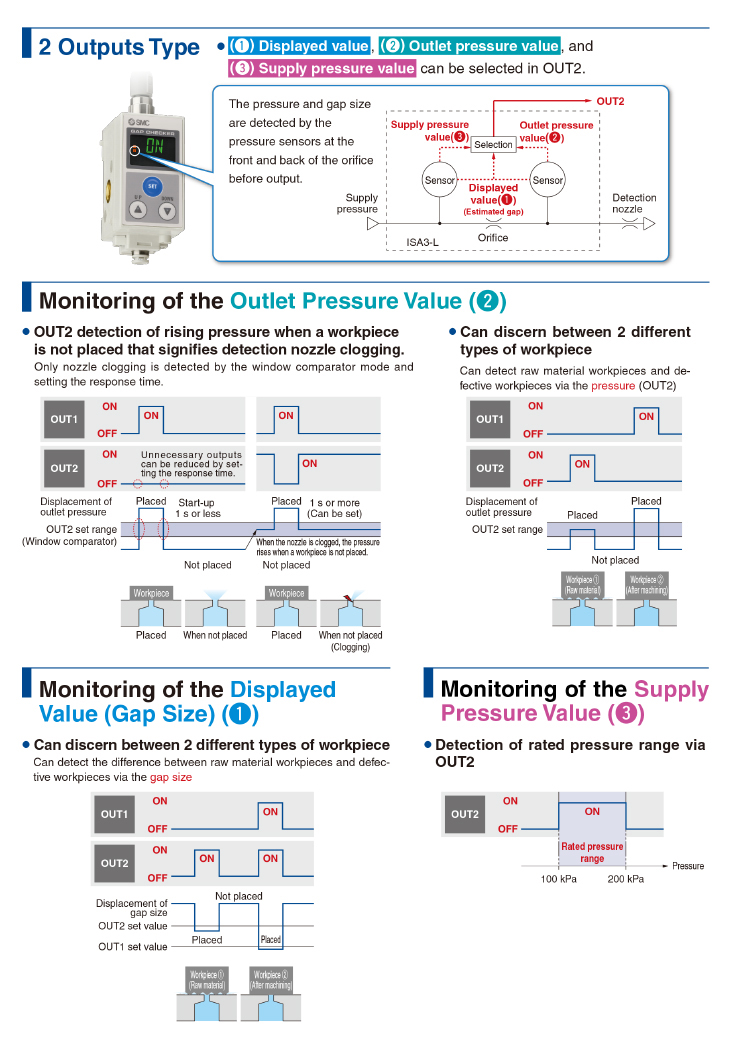 Improved Environmental Resistance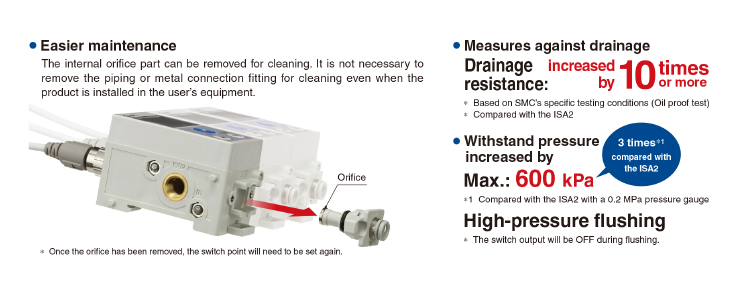 Noise reduction, Energy saving, Measures against clogging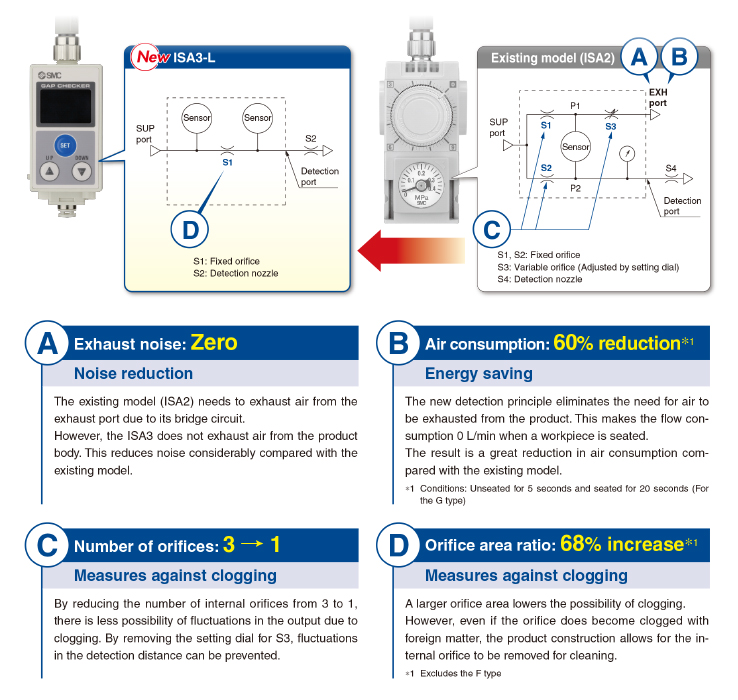 Compact & Lightweight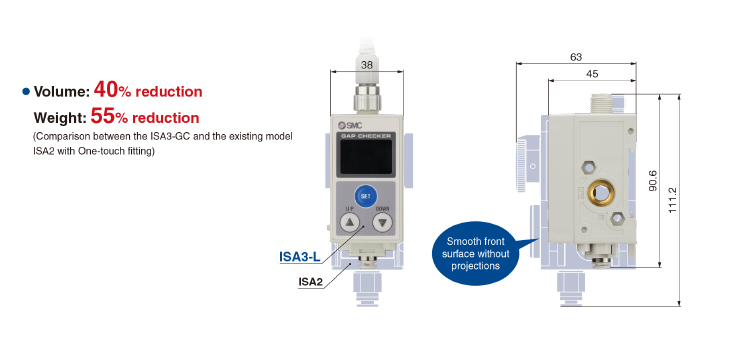 Space saving and man-hour reduction by centralized lead wires
Keylock Function

Manifold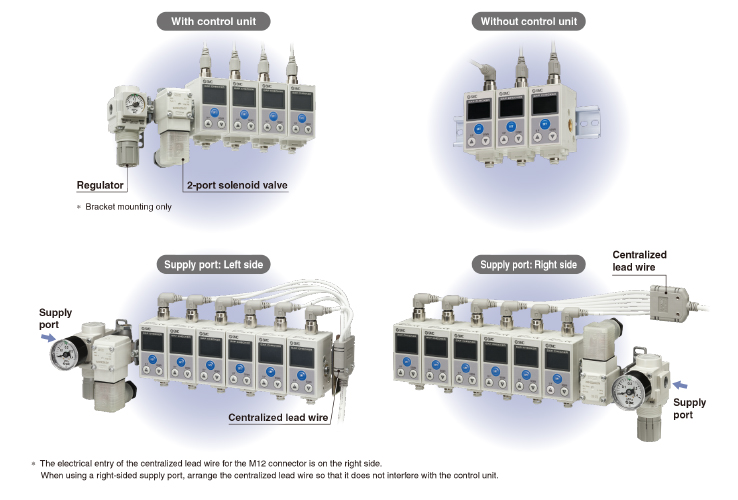 Application Examples
Detection of the table and pallet seating

Workpiece clamp detection

Main Functions