Other: RS232C Compatible Products
Thermo-chiller/High-performance Type HRZ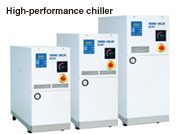 ・Suitable for semiconductor processing equipment with a wide variety of features, such as high-temperature stability, a wide temperature range, failure diagnosis, external communication, etc.
・Compliant with various safety standards
・Compliant with UL Standards, SEMI Standards, CE-marking

∗ The HRZ series will be discontinued in December 2022.
 Please select the HRZ-F series.

2D/3D CAD

The new SMC CAD SYSTEM, CADENAS, allows you to output 2D/3D CAD data with full part numbers in various data formats. Responses to part number selection has been greatly improved with the newly developed system.

Click here for 2D/3D CAD

Thermo-chiller/High-performance Type HRZ

Manual

Thermo-chiller/High-performance Type HRZ

DoC
Series
Set temperature
range
Cooling
capacity
Temperature
stability
Cooling
method
Circulating fluid
HRZ
-20 to 40℃
20 to 90℃
-20 to 90℃
1 kW, 2 kW, 4 kW, 8 kW
±0.1℃
Water-cooled
refrigeration
Fluorinated, Tap water, Deionized water,
Ethylene glycol aqueous solution (60%)