Fittings for General Purposes
One-touch Fittings KQ2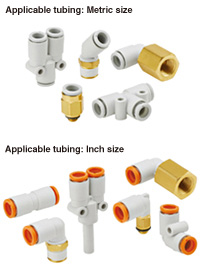 ・Can be used in vacuum to –100 kPa
・Body types: Total of 51 models
・Thread material/Surface treatment (Treated or Non-treated): 2 types
・Selectable surface treatments: Brass (No plating), Electroless nickel-plated brass
・Applicable tubing O.D.
 
 

Round Type



 Metric: ø2, ø3.2, ø4, ø6, ø8, ø10, ø12, ø16
 Inch:ø1/8'', ø5/32'', ø3/16'', ø1/4'', ø5/16'', ø3/8'', ø1/2''

 

Oval Type



 Metric: ø3.2, ø4, ø6
 Inch:ø1/8'', ø5/32'', ø3/16''
・Connection thread
 Metric:M3, M5, M6
 R,Rc :1/8, 1/4, 3/8, 1/2
 G:1/8, 1/4, 3/8, 1/2
 NPT:10-32UNF, 1/16, 1/8, 1/4, 3/8, 1/2
 Uni:1/8, 1/4, 3/8, 1/2
・Seal method
 Sealant/Gasket seal
 Face seal
 Gasket seal(Uni thread)
2D/3D CAD

The new SMC CAD SYSTEM, CADENAS, allows you to output 2D/3D CAD data with full part numbers in various data formats. Responses to part number selection has been greatly improved with the newly developed system.

Click here for 2D/3D CAD
| Series | Release button shape | Size | Connection thread |
| --- | --- | --- | --- |
| KQ2 | Oval Type | Metric, Inch | M,R,Rc,G,NPT,Uni |
| KQ2 | Round Type | Metric, Inch | M,R,Rc,G,NPT,Uni |
Features
Oval type release button added
[New]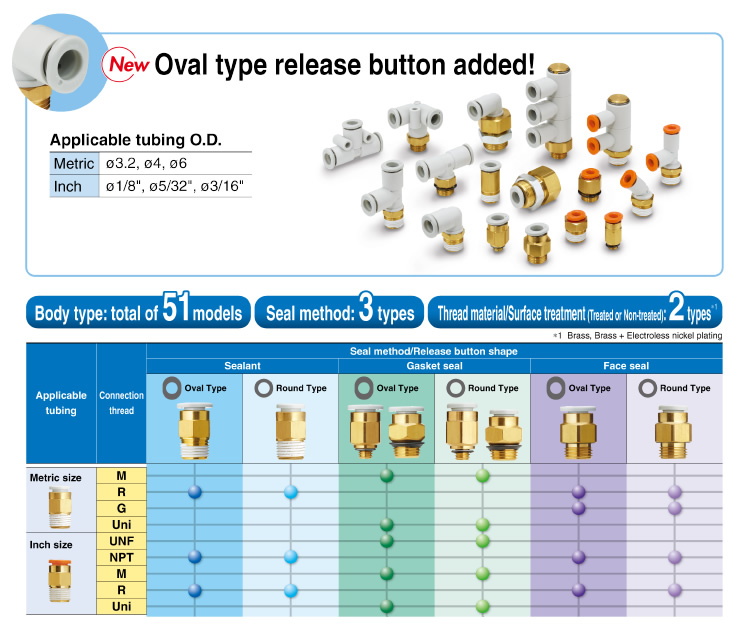 Improved tube insertion/removal
Insertion force: Max. 30% reduction
Removal force: Max. 20% reduction *
* Tube pulling out strength is ensured to be equivalent to existing model.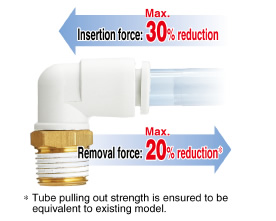 Compact and lightweight
Dimensions Height direction 24% shorter *
Dimensions Horizontal direction 23% shorter *
Weight 57% lighter *
* Existing model KQ2 series Male elbow/Applicable tubing O.D.: ø6/Connection thread: R1/8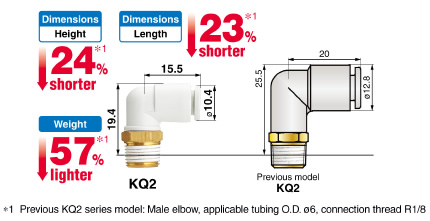 KQ, KQ2 and KJ consolidated into "KQ2"
Enhanced variation, Lightweight, Compact
Selectable seal method *
* Connection thread: R, NPT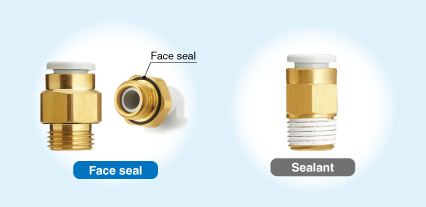 Selectable surface treatment
Brass (No plating)
Brass + Electroless nickel plated
Face seal adopted for threading.
Original thread construction which allows for the use of piping taper female threads (Rc, NPT)
Improved installability(Reduced tool-tightening after hand-tightening)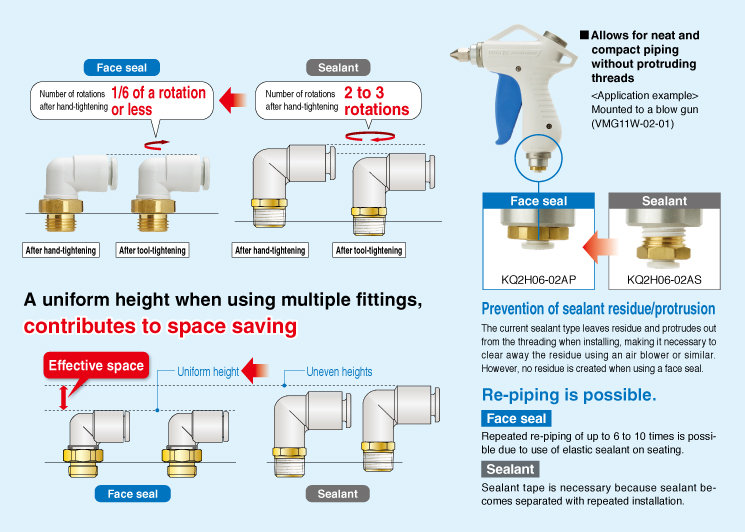 Oval Type/Round Type Variations