WEB Catalog
My List
My List Guide


Product List
Subject ⁄ Industry Classified Products

Electronic Flow Switches/Sensors
3-Screen Display Digital Flow Monitor
PFG300
・Can measure up to 12,000 L/min
・While checking the measured value, settings are possible.
・Current consumption: 25 mA or less
・NPN/PNP switch function
・Input range selection (for pressure/flow rate)
・Simple 3-step setting
| Series | Applicable Flow Switch |
| --- | --- |
| PFG300 | PFMB, PFMC, PF3A7□H |
3-Screen Display Digital Flow MonitorPFG300

■Can measure up to 12,000 L/min!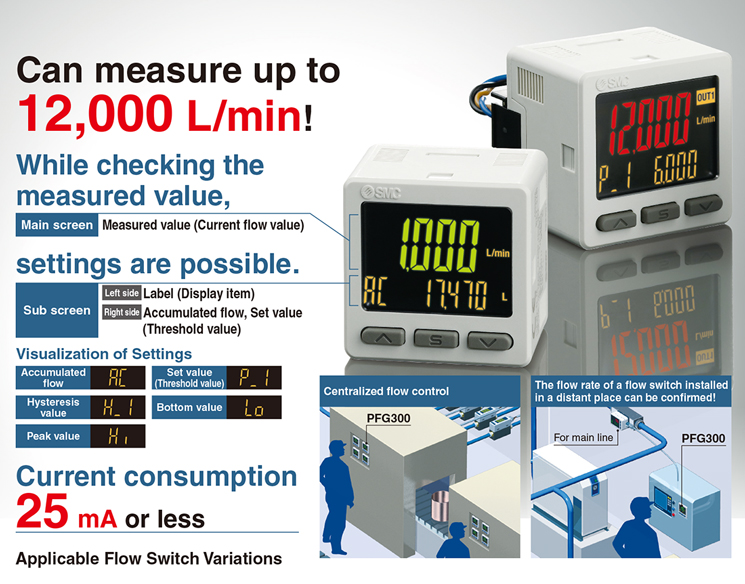 ■Applicable Flow Switch Variations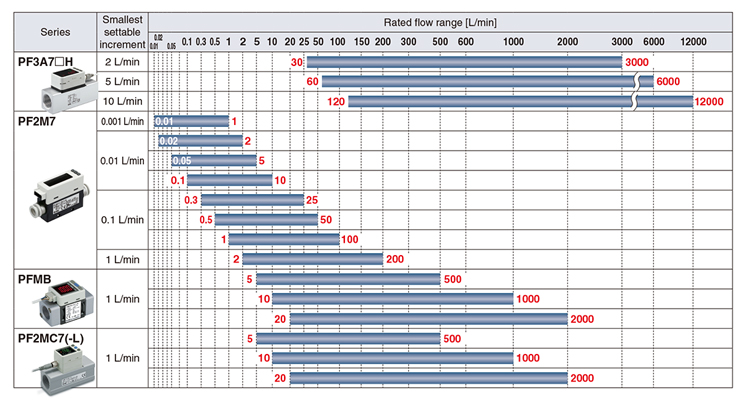 ■NPN/PNP Switch Function
The number of stock items can be reduced.

■Analog output of 0 to 10 V is also available.
Voltage output
1 to 5 V
Switchable
0 to 10 V
Current output
4 to 20 mA
Fixed
■Functions
●Output operation
●Simple setting mode
●Display color
●Delay time setting
●Digital filter setting
●FUNC output switching function
●Selectable analog output function
●External input function
●Forced output function
●Accumulated value hold
●Peak/Bottom value display
●Setting of security code
●Keylock function
●Reset to the default settings
●Display with zero cut-off setting
●Selection of display on sub screen
●Analog output free range function
●Error display function
●Copy function
●Power-saving mode
■Simple 3-Step Setting
When the S button is pressed and the set value (P_1) is being displayed, the set value (threshold value) can be set.
When the S button is pressed and the hysteresis (H_1) is being displayed, the hysteresis value can be set.

■Convenient Functions
Secret code setting function
The key locking function keeps unauthorized persons from tampering with the settings.

Power-saving function
Power consumption is reduced by turning off the monitor.
| Current consumption*1 | Reduction rate*2 |
| --- | --- |
| 25 mA or less | Approx. 50% reduction |
*1 During normal operation *2 In power-saving mode

External input function
The accumulated value, peak value, and bottom value can be reset remotely.
▲Page top