WEB Catalog
My List
My List Guide


Product List
Subject ⁄ Industry Classified Products

Electronic Pressure Switches/Sensors (Self-contained Type)
3-Screen Display High-Precision Digital Pressure Switch

ZSE20□(F)/ISE20□
・Visualization of settings
・Simple 3-step setting
・Easy screen switching
 It is possible to change the settings while checking the measured value.
・Delay time:1.5 ms or less
・Current consumption: 25 mA or less
・IO-Link compatible
Series
Output type
Type
Rated pressure range
Enclosure
Applicable fluid
ZSE20(F)
ISE20

1 output

Compound pressure
Vacuum pressure
Positive pressure
−100.0 to 100.0 kPa
0.0 to −101.0 kPa
−0.100 to 1.000 MPa

IP40

Air

ZSE20A(F)
ISE20A
2 outputs
Analog output
(Voltage/Current)
Compound pressure
Vacuum pressure
Positive pressure
−100.0 to 100.0 kPa
0.0 to −101.0 kPa
−0.100 to 1.000 MPa

IP40

Air

ZSE20B(F)
ISE20B-(L)
2 outputs
Analog output
(Voltage/Current)
IO-Link/Switch: 1 output
Compound pressure
Vacuum pressure
Positive pressure
−100.0 to 100.0 kPa
0.0 to −101.0 kPa
−0.100 to 1.000 MPa

IP65

Air

ZSE20C(F)
ISE20C(H)
2 outputs
Analog output
(Voltage/Current)
Compound pressure
Vacuum pressure
Positive pressure
−100.0 to 100.0 kPa
0.0 to −101.0 kPa
−0.100 to 1.000 MPa
−0.100 to 2.000 MPa

IP65

General fluids
3-Screen Display High-Precision Digital Pressure Switch
ZSE20□(F)/ISE20□
Series
Type
Download
ZSE20(F)
ISE20
Compound pressure
Vacuum pressure
Positive pressure

ZSE20A(F)
ISE20A
Compound pressure
Vacuum pressure
Positive pressure

ZSE20B(F)
ISE20B-(L)
Compound pressure
Vacuum pressure
Positive pressure

ZSE20C(F)
ISE20C(H)
Compound pressure
Vacuum pressure
Positive pressure

■It is possible to change the settings while checking the measured value.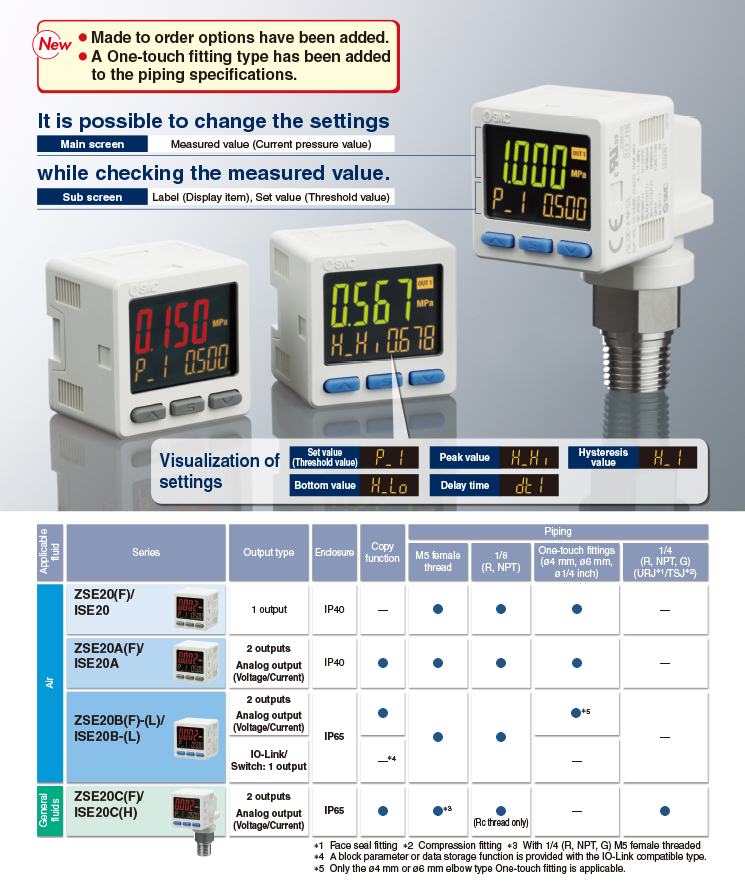 ■Simple 3-Step Settings
When the S button is pressed and the set value (P_1) is being displayed, the set value (threshold value) can be set.
When the S button is pressed and the hysteresis (H_1) is being displayed, the hysteresis value can be set.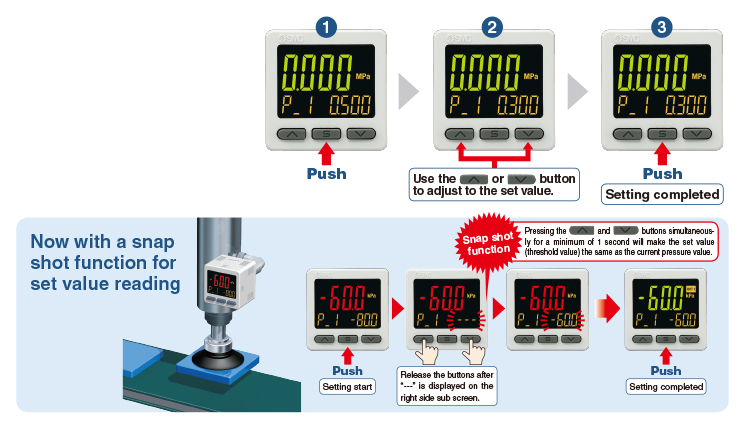 ■Other Sub Screen Display
The peak value or bottom value, or both values can be displayed on one screen!
* Peak and bottom values are maintained even if the power supply is cut.

■Delay Time: 1.5 ms*1 or less
* 1 Select from 1.5 ms or less, 20 ms, 100 ms, 500 ms, 1000 ms, 2000 ms, or 5000 ms.
■Convenient Functions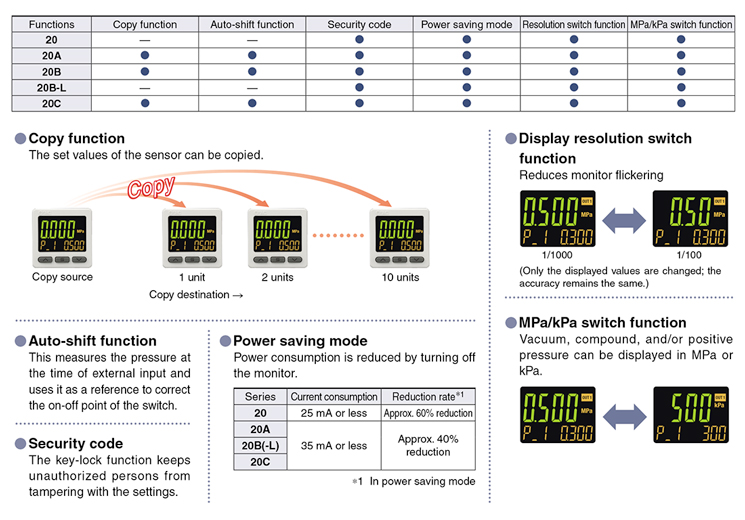 ■Compact & Lightweight

■IO-Link Compatible ZSE20B(F)-L/ISE20B-L
Visualization of operation/equipment status/Remote monitoring and control by communication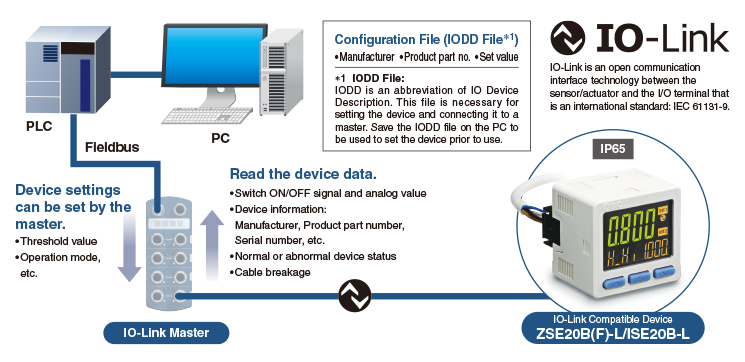 Implement diagnostic bits in the process data.
The diagnostic bit in the cyclic process data makes it easy to find problems with the equipment.
It is possible to find problems with the equipment in real time using the cyclic (periodic) data and to monitor such problems in detail with the noncyclic (aperiodic) data.


Display function
Displays the output communication status and indicates the presence of communication data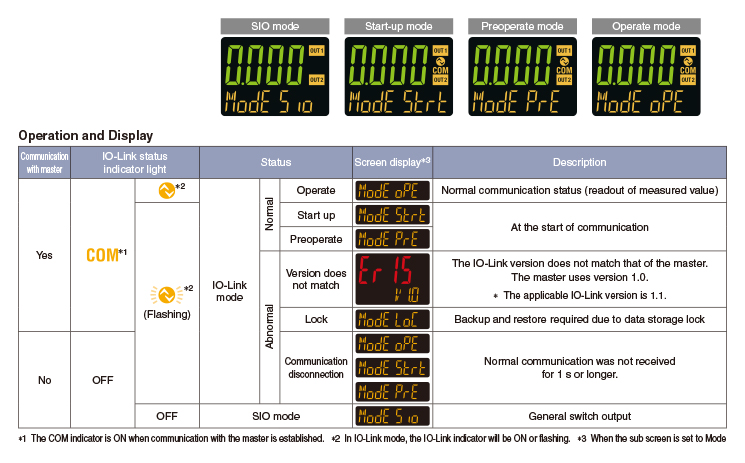 ■For General Fluids ZSE20C(F)/ISE20C(H)
● Stainless diaphragm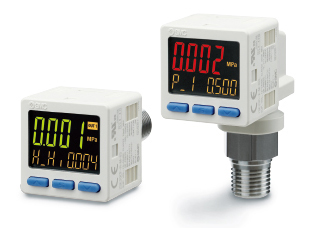 Oil-free (Single-layer diaphragm structure)
Sensor unit: Stainless steel 630
Fitting parts: Stainless steel 304
A stainless steel 316L option is also available for the sensor unit and fitting parts.
● Enclosure: IP65
● Leakage
1×10-10Pa・m3/s
<Face seal and compression fitting>
1×10-5Pa・m3/s
<Threaded type (R, Rc, NPT, G)>
● Grease-free
* The grease-free specification does not intentionally apply grease to the parts in contact with fluid.
● Select from 2 piping directions.

● Welded structure for sensor units and fitting parts
Select from a face seal or compression fitting.

● Applicable Fluid Examples
Water
Hydraulic fluid (JIS-K2213)
Silicone oil
Lubricant
Fluorocarbon
Argon
Carbon dioxide
Air-containing drainage
Nitrogen
■Applications

■Made to Order
● Parts in contact with fluid:stainless Steel 316L
This pressure switch has increased corrosion resistance due to the use of stainless steel 316L for the parts in contact with fluid (pressure sensor and fitting).
▲Page top