WEB Catalog
My List
My List Guide


Product List
Subject ⁄ Industry Classified Products

Membrane Air Dryer
IDG□A/IDG
・It is possible to easily supply dry air using the hollow fiber membrane.
・Non-fluorocarbon
・Power supply not required
・Compatible with low dew points (–60ºC)
・No vibration or heat discharge
・With a dew point indicator
| Series | Outlet flow L/min (ANR) | Standard dew point (°C) |
| --- | --- | --- |
| IDG□A/IDG | 10 to 1000 | -15,-20,-40,-60 |
Membrane Air DryerIDG□A/IDG
| Series | Download |
| --- | --- |
| IDG□A/IDG | |

■Possible to easily supply dry air using the hollow fiber membrane!

Energy saving Reduced in purge air flow by up to 39 (L/min [ANR])
Cost reduced by up to 21,060 yen/year!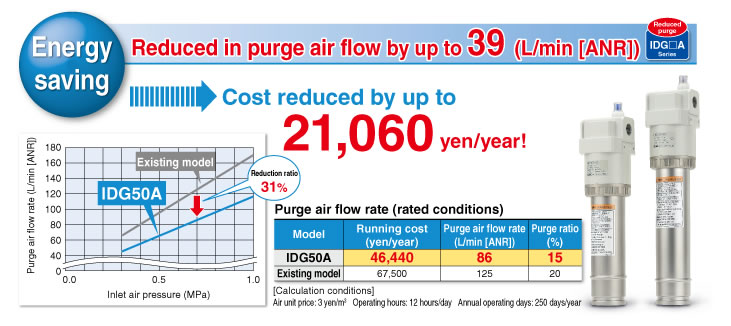 ■Dew point indicator visually  confirms air drying.
(Except IDG1)
(Semi-standard: IDG3, IDG5, IDG3H, IDG5H)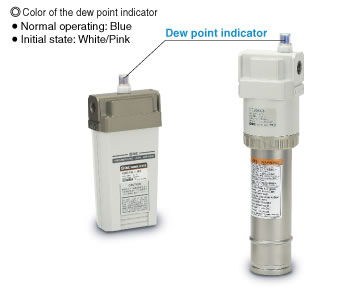 ■Reduced in purge air discharge noise with built-in silencer
Except IDG1, IDG3, IDG3H, IDG5, IDG5H, IDG30A, IDG30HA, IDG30LA, IDG50A, IDG50HA, IDG50LA
■Dehumidification Principle
The membrane air dryer uses hollow fibers composed of a macro molecular membrane through which moisture passes easily, but is difficult for air (oxygen and nitrogen) to pass through.
When humid, compressed air is supplied to the inside of the hollow fibers, only moisture permeates the membrane and moves to the outside due to the pressure difference between the moisture inside and outside of the fibers. The compressed air becomes dry air and continues out of the dryer. Part of the dry air from the outlet side is passed through a very small orifice to reduce the pressure and purge the outside of the hollow fibers. The moisture which permeated to the outside of the hollow fibers is discharged to the atmosphere by this purge air. In this way, the partial pressure outside of the hollow fibers remains low and dehumidification is continuously performed.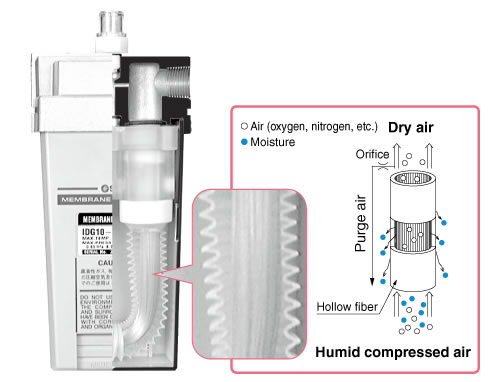 ■Application Examples
Others
• Dental equipment • Ozonizers, Hydrogen gas generating equipment • Fine particle drying, Transfer equipment • Condensation prevention in control panels • Chemical analysis equipment • Printed circuit board IC mounting machines • Drying and cleaning of precision parts • General pneumatic equipment and pneumatic tools
■Variations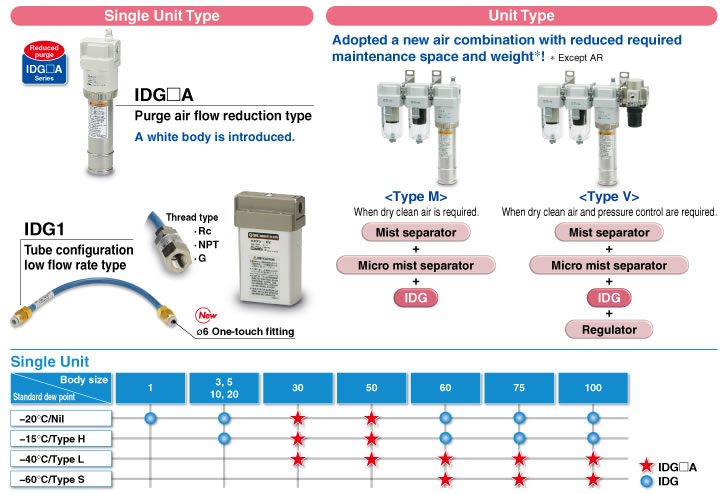 ▲Page top