WEB Catalog
My List
My List Guide


Product List
Subject ⁄ Industry Classified Products

・Max. operating cycles: 10 million cycles
・Stops transferred objects gently
・Lineup features from M6 to M27
・Compatible with the RB series in terms of mounting
・Applicable models can be selected depending on
 the operating speed.
 L type: 0.05 to 1 m/s
 H type: 0.05 to 2 m/s
 Short stroke type: 0.05 to 1 m/s
| Type | Series | Absorbed energy(J) | Absorption stroke(mm) | O.D. thread |
| --- | --- | --- | --- | --- |
| Soft type | RJ | 0.5 to 70 | 4 to 25 | M6 to M27 |
| Short stroke type | RJ | 0.5 to 3.7 | 5 to 10 | M8 to M14 |
Shock AbsorberRJ
| Type | Series | Download |
| --- | --- | --- |
| Soft type | RJ | |
| Short stroke type | RJ | |

■Production structure/Option
The product is applicable a wide variety of workpieces using various options.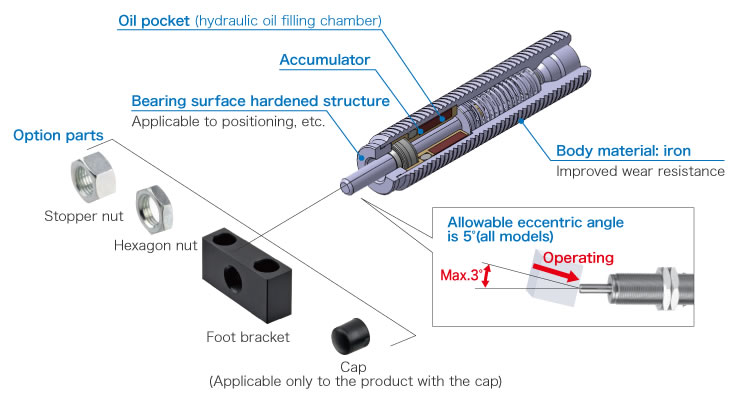 ■Two types of absorbed energy are available as standard.
Selectable in accordance with impact mass and collision speed
Soft type and short stroke type are available as standard so as to be selectable according to usage conditions
(impact mass, collision speed).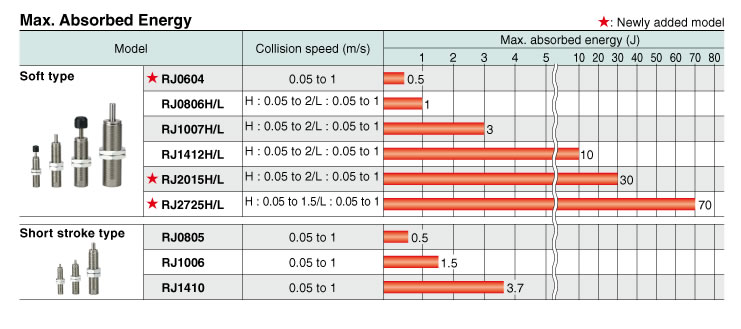 ■Pre-load mechanism working principle
Hydraulic oil in the oil pocket is suppled into the pressure chamber by elasticity of the accumulator to replenish the slight decrease of oil caused by operations.

■Series RJ mounted cylinders
The shock absorber/soft type Series RJ is mounted on the standard cylinder. This ensures soft stopping at the stroke end. For details, see
SMC's general catalog.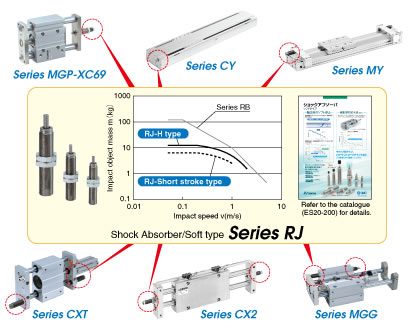 ■Shock Absorbers Series Variations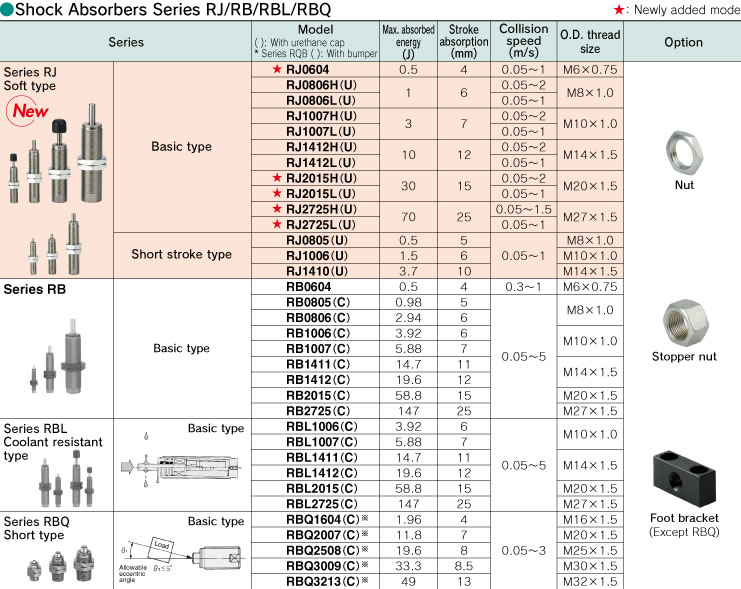 ▲Page top