WEB Catalog
My List
My List Guide


Product List
Subject ⁄ Industry Classified Products
Adobe Flash Player(v16 or later) is required to view the catalog.


Pallet Lock Cylinder
W-R1/W-R3
・Centering applied to correct positional deviation of
 up to ±50 mm
・Through the toggle mechanism, max. clamping force of
 4430 N
・Arm opening angle: Approx. 70°
・The integration of the clamping unit and cylinder unit reduces
 design and assembly labor.
| Series | Transferred object | Clamping force [N] | Bore size (mm) |
| --- | --- | --- | --- |
| W-R1 | 1000kg or less | 4430 | 100 |
| W-R3 | 3000kg or less | 4070 | 100 |
Pallet Lock CylinderW-R1/W-R3
| Series | Bore size (mm) | Download |
| --- | --- | --- |
| W-R1 | 100 | |
| W-R3 | 100 | |

■Centering applied to correct positional deviation of up to ±50 mm
■Through the toggle mechanism, max. clamping force of 4430 N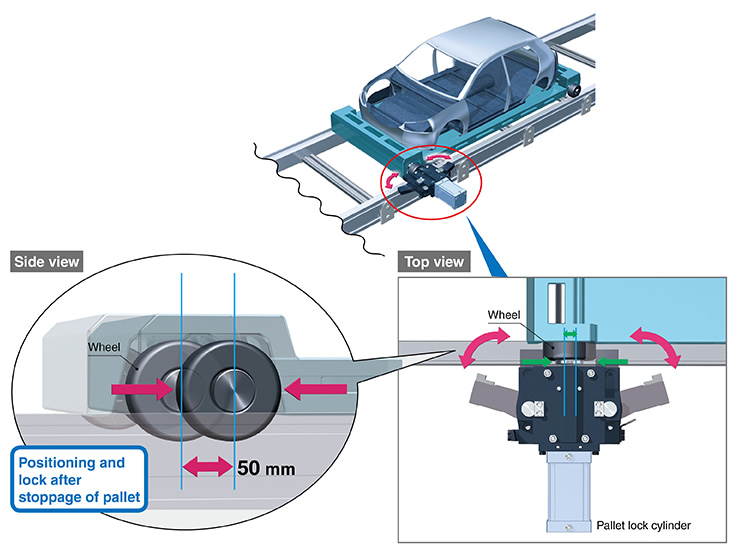 ■Arm opening angle: Approx. 70°
A wide arm opening angle prevents contact with the workpiece.
(Cylinder sliding is not necessary.)
*Values for W-R1 Series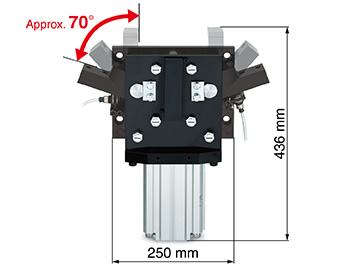 ■Selectable when the mass of the transferred object is either 1000 kg or 3000 kg, with consideration given to the impact during positioning
▲Page top