Product Information » New Products:Speed Controller with Compact Indicator AS-FSA Series
New Product Information
Speed Controller with Compact Indicator AS-FSA Series
New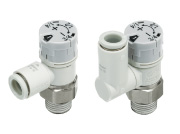 Updated Mar-23
Body sizes 1/8, 1/4, 3/8, and 1/2 have been added.

[New]

Height: Max. 5.5 mm shorter
Flow rate can be controlled numerically with the indicator window.
Due to the vernier indication, it is possible to configure fine settings in 1/4 increments.
Reduces work-hours and setting mistakes
Better visibility
Check from 360° directions is possible.
 Inspection and maintenance works are facilitated.