Product Information » New Products:3-Screen Display High-Precision Digital Pressure Switch ISE7□/7□G/79S Series newproducts/en-jp/22/ise7
New Product Information
3-Screen Display High-Precision Digital Pressure Switch ISE7□/7□G/79S Series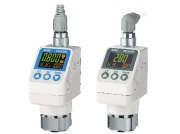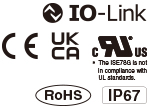 Updated May-22
The ISE79S for general fluids (50 MPa) has been added.

[New]

It is possible to change the settings while checking the measured value.
IO-Link
Angled display
Good visibility from various mounting positions
Rotating display
Display can rotate 336 degrees after installation.
Applicable fluids: Air, Non-corrosive gas, Non-flammable gas (ISE70/71)
: Liquid or gas that will not corrode materials of parts in contact with fluid (ISE7□G/79S)
Product Features
It is possible to change the settings while checking the measured value.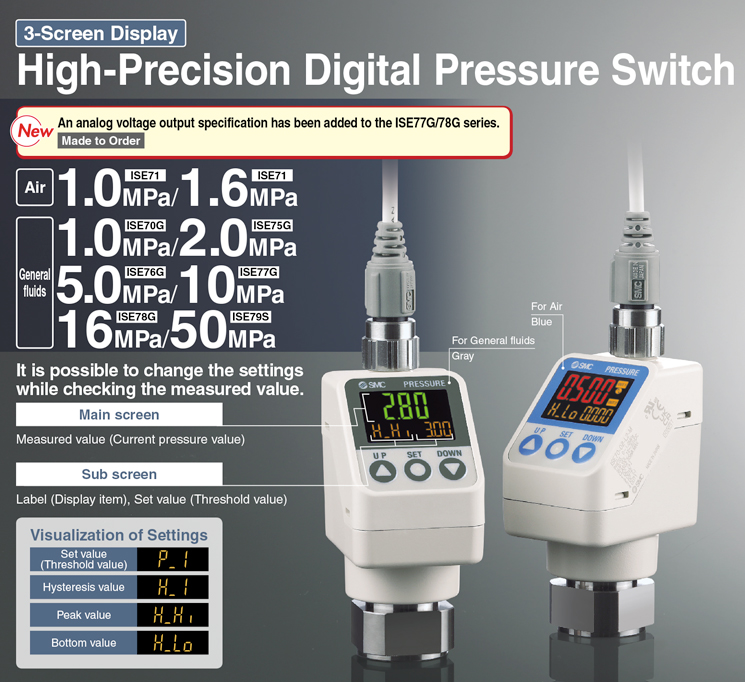 Visualization of Settings
The sub screen (label) shows the item to be set.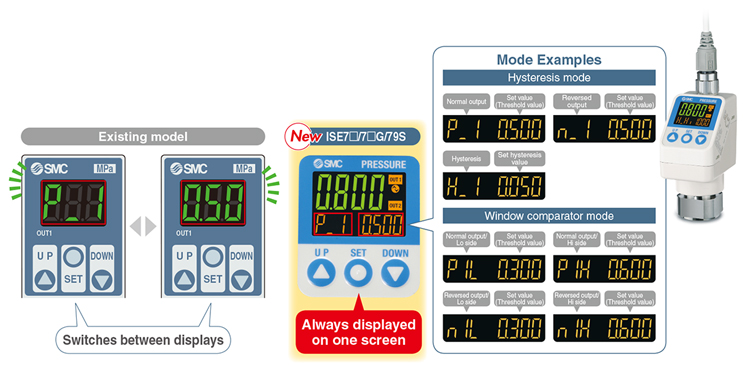 Angled display
Good visibility from various mounting positions

Rotating display

Simple 3-Step Setting
When the SET button is pressed and the set value (P_1) is being displayed, the set value (threshold value) can be set. When the SET button is pressed and the hysteresis value (H_1) is being displayed, the hysteresis value can be set.

NPN/PNP Switch Function
Both NPN and PNP are available. The number of stock items can be reduced.

Other Sub Screen Display
The peak value, bottom value, or both values can be displayed on one screen!
* Peak and bottom values are maintained even if the power supply is cut.

Convenient Functions

3 Setting Modes
Select the setting mode that best meets your needs.

IO-Link Compatible
Visualization of operation and equipment status/Remote monitoring and control by communication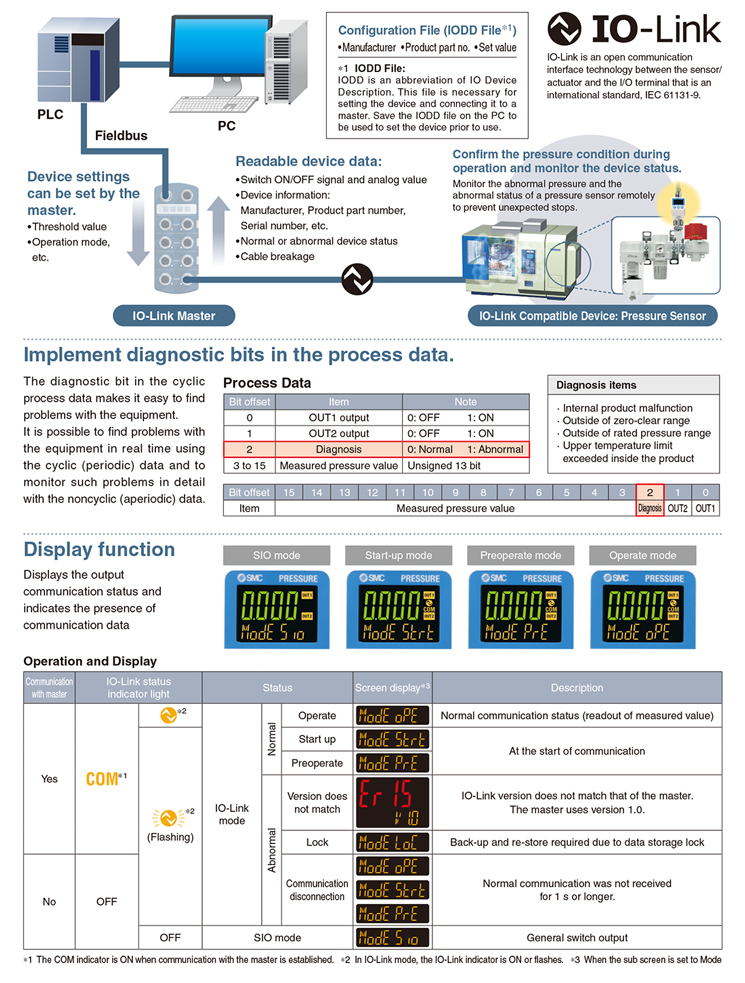 Introduction of Series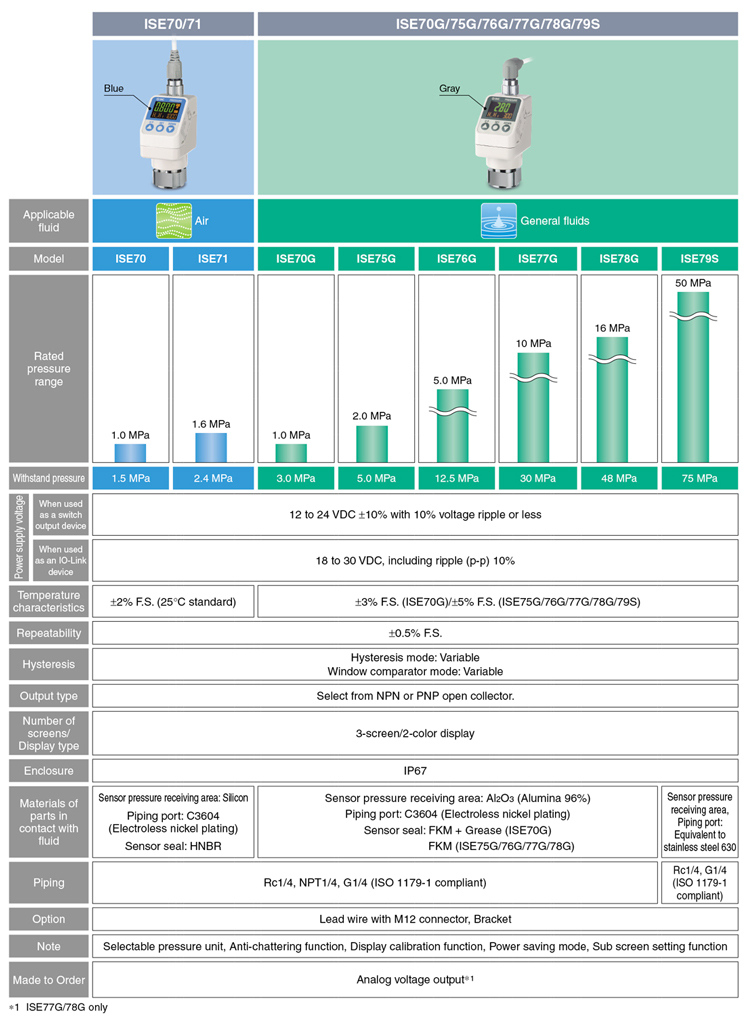 Select either the integrated type or the remote type according to the application.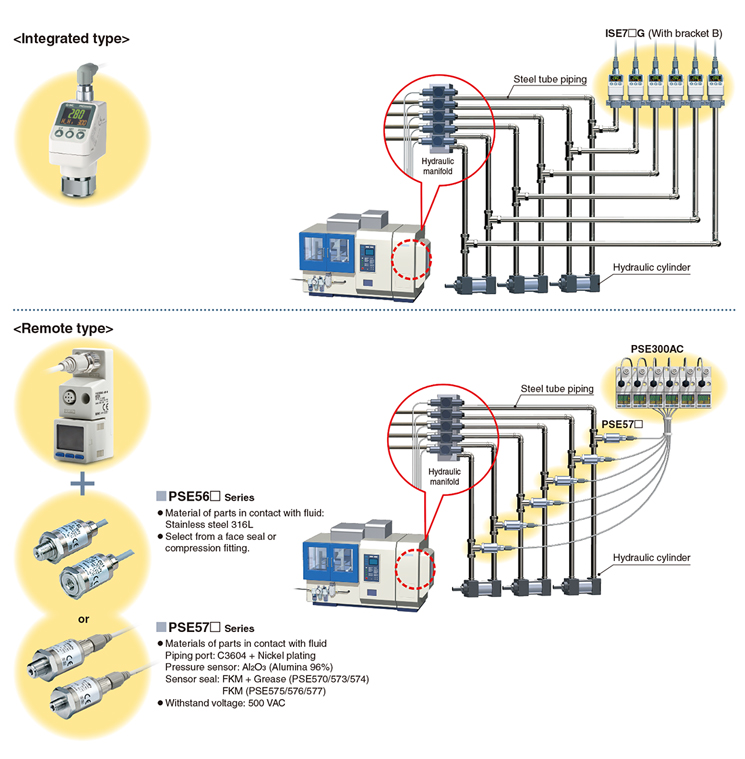 Application Examples