Product Information » New Products:Air Management System AMS20/30/40/60 Series
New Product Information
Air Management System AMS20/30/40/60 Series
New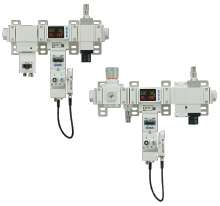 Updated Apr-23
EtherCAT has been added as a communication protocol.

[New]

Air consumption: Max. 62% reduction
Monitors the machine standby conditions (when production stops) and automatically decreases the pressure.
Reduces unnecessary air consumption
Compatible with OPC UA
Direct connection enables data communications.
Compatible with wireless systems
Communication cables not required
High security thanks to unique encryption
Communication distance: Max. 100 m
IO-Link compatible
Product Features
Air consumption: Max. 62%*reduction
* In SMC conditions: Maximum reduction ratio within product specifications
(at 0.7 MPa operating pressure and 0.2 MPa low pressure)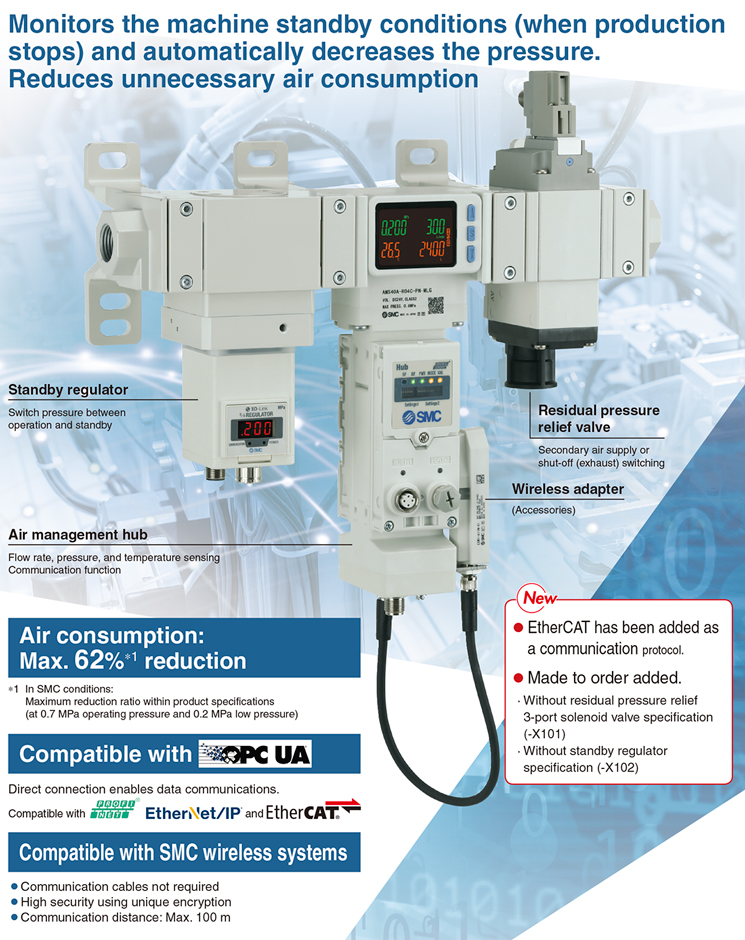 Why not reduce the wasted air generated by your factory equipment?

Reduced air consumption due to lower pressure during production stoppages/equipment standby (Standby mode)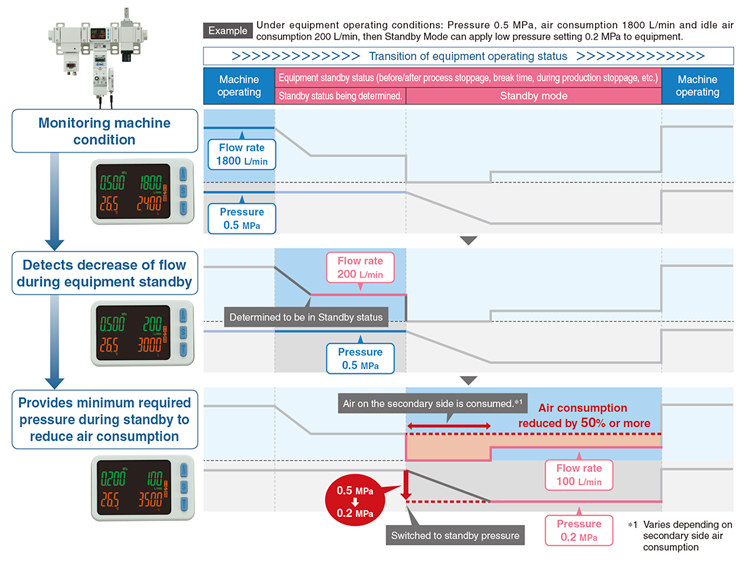 Reduce air consumption by shutting off valves depending on equipment shutdown conditions (Isolation mode)
Residual pressure exhaust valve allows further reduction of air consumption by shutting off the air supply.
Automatic isolation mode is also provided that can be turned off after a set time from standby mode (patent pending).

Allows visualization of production equipment status
Flow, pressure, temperature, and other sensor information can be communicated to the host system via Industrial Ethernet or the OPC UA data communication protocol.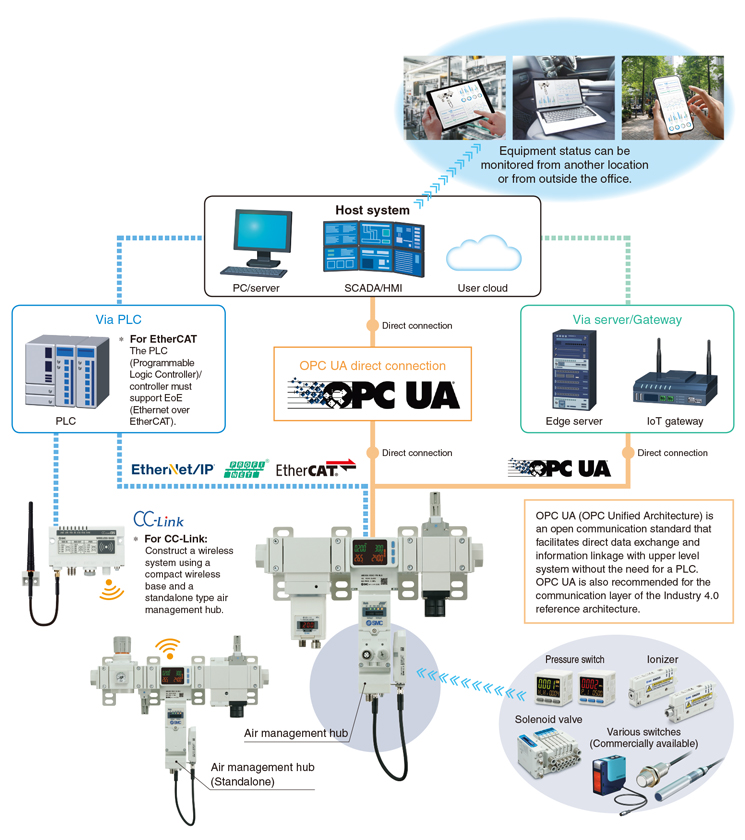 IO-Link compatible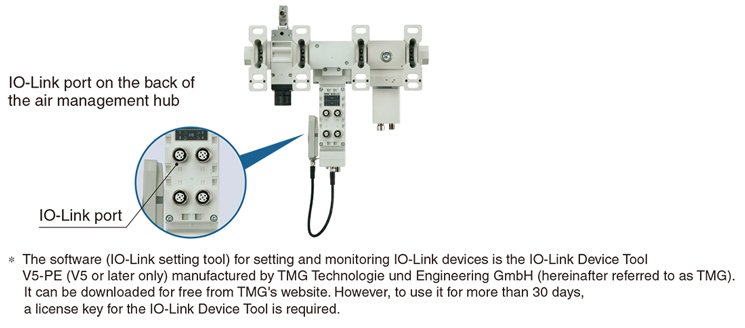 Examples of IoT applications with Air Management System

Compatible with wireless systems
Click here for further details on related products.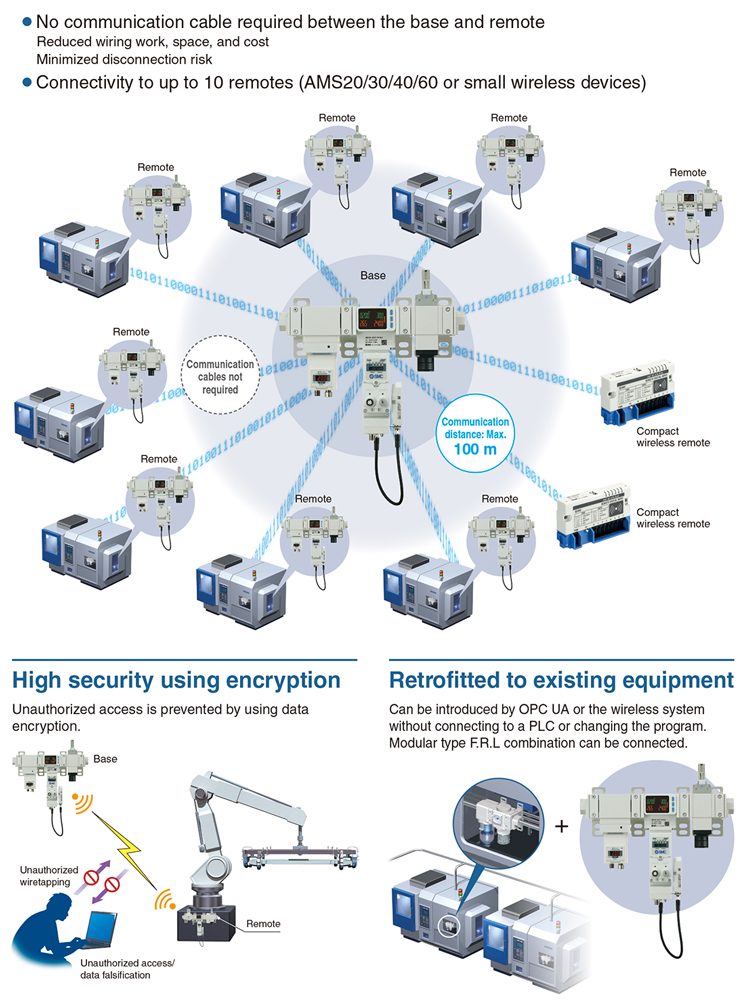 System Configuration