Product Information » New Products:3-Color Display Digital Flow Switch for Water PF3W-Z/L Series
New Product Information
3-Color Display Digital Flow Switch for Water PF3W-Z/L Series
New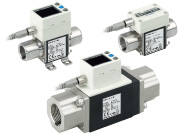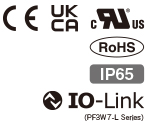 Updated Nov-23
Output specification variations have been added.

[New]


PF3W7-Z: Analog voltage 2-output type (flow rate + temperature)
     Analog current 2-output type (flow rate + temperature)
Compatible with the PFG200 series 3-screen display 4-channel flow monitor

[New]

Applicable fluid: Water, Ethylene glycol aqueous solution
Lightweight: Max. 53% reduction (40 L/min, With temperature sensor)
IO-Link compatible
3-color/2-screen display
Compatible with the temperature sensor & flow adjustment valve
Fluid temperature: 0 to 90°C
Product Features
Lightweight: Max. 53% reduction (40 L/min, With temperature sensor)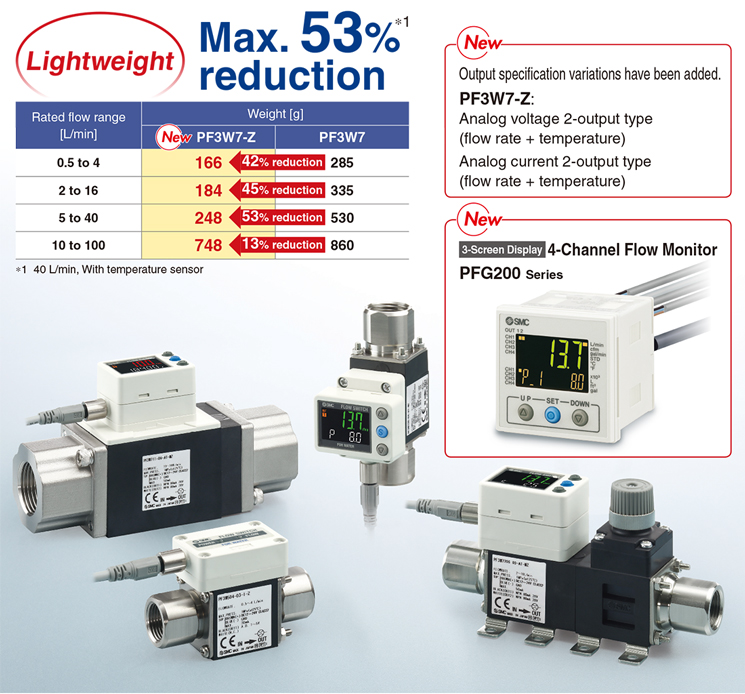 Variations

3-color/2-screen display

Compatible with the temperature sensor & flow adjustment valve

Fluid temperature: 0 to 90°C
Non-grease
Ethylene glycol aqueous solution can be used.

Compatible with the analog 2-output type (flow rate + temperature)
Enables the monitoring of flow rate and temperature conditions not only at the installation site but also remotely

Rotatable display

Remote Sensor Unit & 3-Color Display Digital Flow Monitor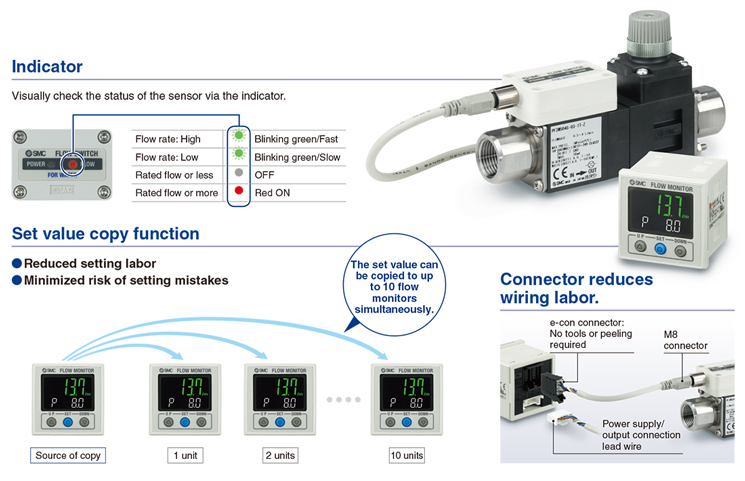 Mounting

Digital Flow Switch for Water PF3W

Compatible with the PFG200 series 3-screen display 4-channel flow monitor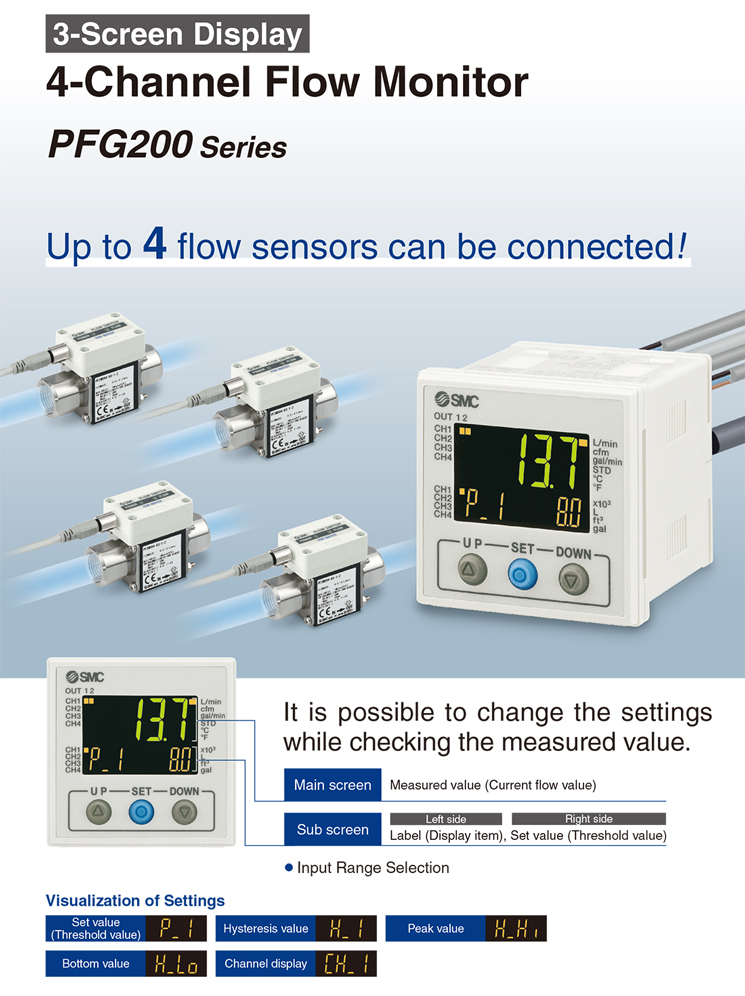 Visualization of Settings
Item and set value are displayed together.
Easy to confirm the displayed item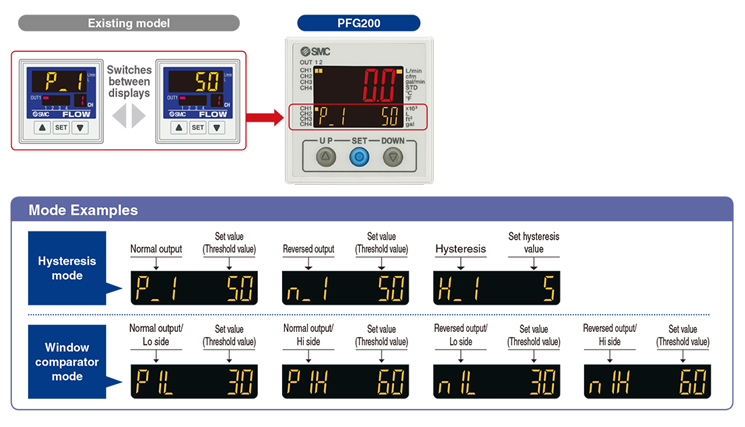 Easy Screen Switching
It is possible to change the settings while checking the measured value.

Simple 3-Step Setting

Centralized Control Saves Installation Space.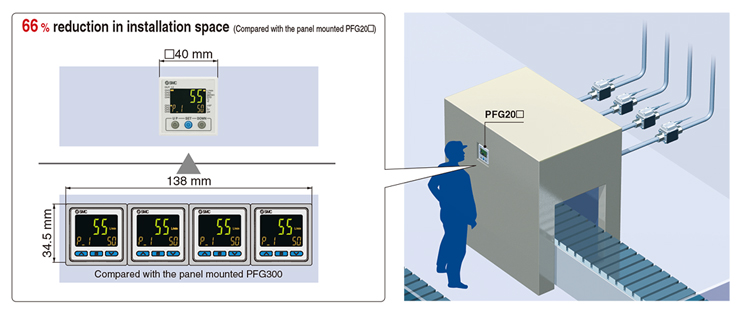 Accumulated Flow Measurement
A single product can manage the accumulated flow in four lines.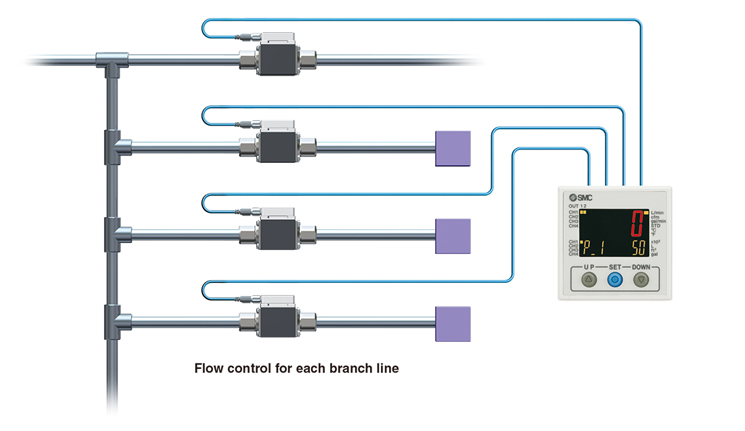 Input Range Selection (for Pressure/Flow rate)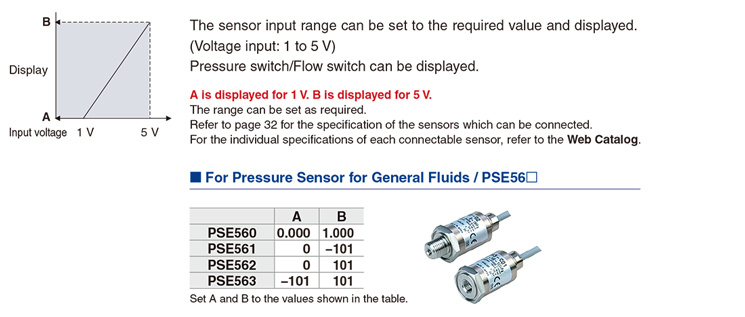 Connectors
Connection and removal of wiring is easy.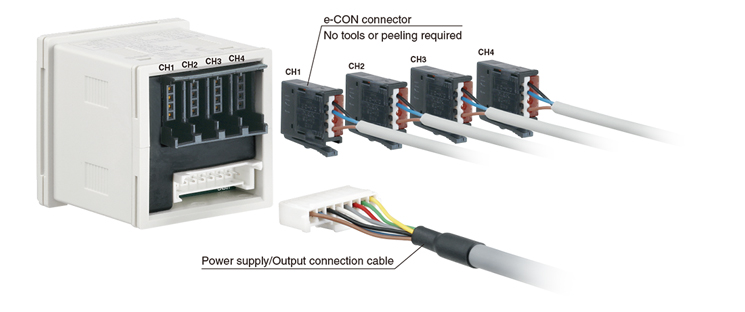 Functions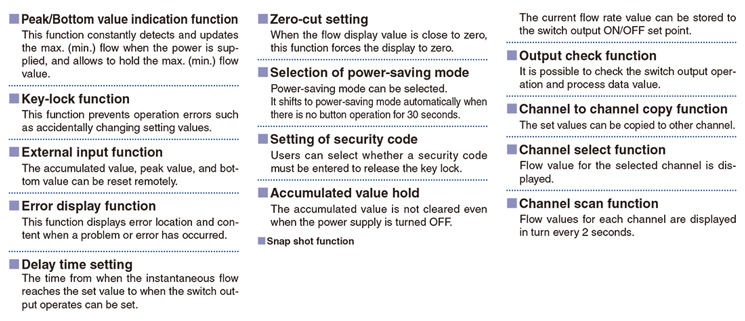 Hub Function
Converts analog signals to digital signals and supports IO-Link
A currently used sensor can be used.
 ∗ Supports analog voltage output 1-5 V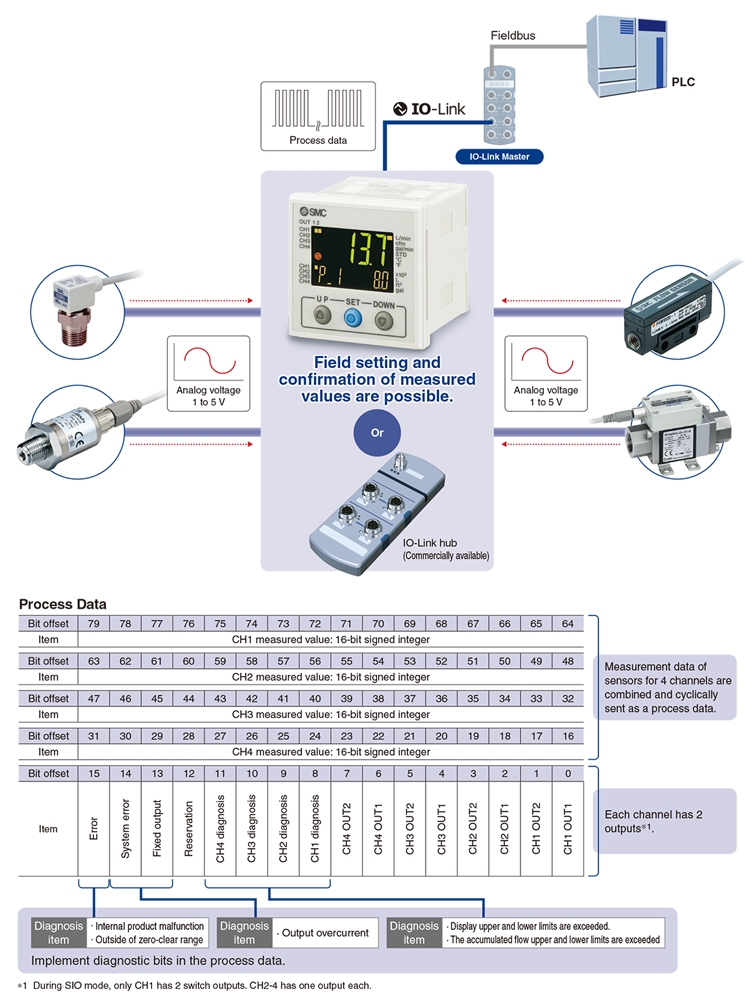 IO-Link Compatible