|

2. Flow Casting

After casting in the direction of the axle
using a die, a PET sheet is created by
attaching to a cooling drum and solidifying
it with rapid cooling.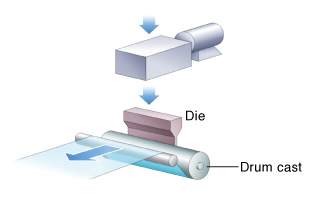 Solvent Atmosphere
Use
Item name
Series
Improved corrosion
resistance
Stainless Steel Cylinder
CJ5・S / CG5・S
Floating Joint (Stainless Steel)
JS
Stainless Steel 316 One-touch Fittings
KQG
Stainless Steel 316 Insert Fittings
KFG
FEP Tubing
TH / TIH
Fluororesin Tubing
TL / TIL
Drum Cooling
Use
Item name
Series
Temperature control
Thermo-cooler
(Constant temperature water circulating device)
HRS
Thermo-cooler (Constant temperature fluid circulating device <High performance type>)
HRZ
Points and Precautions for Selection
• When using in a clean area, please select equipment that conforms to clean-room class standards of cleanliness.
• Using equipment in a solvent atmosphere may result in diminished product quality, so please check the specifications and materials of the model.
• When using equipment at high temperatures or in a solvent atmosphere, please check the specifications (operating temperature, materials, etc.) of the model before using.