-
Film Manufacturing Process Equipment

|

2. Flow Casting

After casting in the direction of the axle
using a die, a PET sheet is created by
attaching to a cooling drum and solidifying
it with rapid cooling.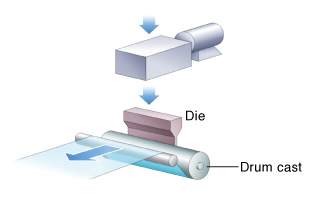 FEP Tubing (Fluoropolymer)
TH/TIH
・Max. operating pressure: 2.3 MPa (at 20℃)*
・Food Sanitation Law compliant
・Complies with the FDA (Food and Drug Administration)
 § 177.1550 dissolution test
・Operating temperature (fixed usage): Air, Inert gas: -65 to 200°C
                    Water: 0 to 100°C (No freezing)
 (This may vary according to operating pressure.)

*This may vary according to size.

Data Download
PDF
Series
Tubing O.D.
Metric size
Tubing O.D.
Inch size
Color

TH/TIH

φ4, φ6, φ8, φ10, φ12

φ1/8'',φ3/16'',φ1/4'',φ3/8'',φ1/2'',φ3/4''

Translucent, Black, Red, Blue
FEP Tubing (Fluoropolymer)TH/TIH