|

8. Cutting ⁄ Rolling

While continuing to unroll, the film is cut down the middle direction and rolled up at a constant level of tension.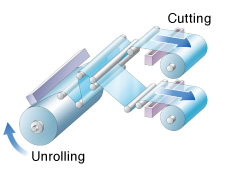 Tension Control
Preventing Attachment of Foreign Objects ⁄ Quality Improvement
Use
Item name
Series
Anti-static electricity
measures
Ionizer
IZS 40 / 41 / 42
Clean blow
Clean Air Module
LLB
Direct Operated 2 Port Solenoid Valve
VX2
Clean One-touch Fittings (for Blowing)
KP
Polyolefin Tubing
TPH
Soft Polyolefin Tubing
TPS
Clean Room Specifications
Use
Item name
Series
Pneumatic equipment
for clean room
Clean Series
Clean Series
Quality Improvement
| Use | Item name | Series |
| --- | --- | --- |
| Non-contact pad | ---- | XT661 |
Points and Precautions for Selection
• A low slide-resistance cylinder and a high-precision pressure control are necessary for tension control. Please use in combination with a low-friction type cylinder, precision regulator and electro-pneumatic regulator.
• When selecting a cylinder for cutting, please choose a high-rigidity, high-precision cylinder with a guide.
• For better product performance, please use air preparation equipment to improve the quality of the air.
• When using in a clean environment, please select equipment that conforms to clean-room class standards of cleanliness.