-
Film Manufacturing Process Equipment

|

2. Flow Casting

After casting in the direction of the axle
using a die, a PET sheet is created by
attaching to a cooling drum and solidifying
it with rapid cooling.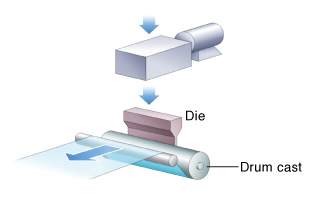 ・The floating joint can absorb any off-centering or loss of parallel
 accuracy of the double acting cylinder, making centering unnecessary.
| Type | Series | Applicable cylinder bore size (mm) |
| --- | --- | --- |
| Lightweight and compact type | JT | 20,25,32,40 |
| Light weight type for light load | JC | 20,25,32,40,50,63 |
| Standard | JA,JAF,JAL | 6,10,15,20,25,30,40,50,63,80,100,125,140,160 |
| Standard | JA-X530,JAF-X530,JAL-X530 | 180,200 |
| Heavy load | JAH,JAHF,JAHL | 40,50,63,80,100 |
| For compact cylinders | JB | 12,16,20,25,32,40,50,63,80,100,125,140,160 |
| Stainless steel | JS | 10,15,16,20,25,32,40,50,63 |
Floating JointJ
| Type | Series | Download |
| --- | --- | --- |
| Lightweight and compact type | JT | |
| Light weight type for light load | JC | |
| Standard | JA,JAF,JAL | |
| Standard | JA-X530,JAF-X530,JAL-X530 | |
| Heavy load | JAH,JAHF,JAHL | |
| For compact cylinders | JB | |
| Stainless steel | JS | |