|

1. Dissolution of Raw Materials

Dried chips of raw material (PET) are
fed into a hopper, then supplied to an
extruder and completely melted down.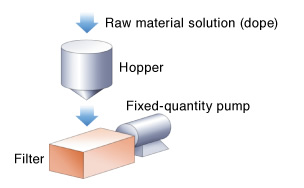 Blending of Raw Materials
Use
Item name
Series
Explosion-proof equipment
Intrinsically Safe Explosion-proof System 5 Port Solenoid Valve
51-SY
*5 Port Solenoid Valve
SY
*5 Port Solenoid Valve
VQC
Industrial Filters
Industrial Filter
FG
* Does not meet explosion-proof specifications. Please use only in non-explosion proof areas.
Solvent Atmosphere
Use
Item name
Series
Improved corrosion resistance
Stainless Steel Cylinder
CJ5・S / CG5・S
Floating Joint (Stainless Steel)
JS
Stainless Steel 316 One-touch Fittings
KQG
Stainless Steel 316 Insert Fittings
KFG
FEP Tubing
TH / TIH
Fluororesin Tubing
TL / TIL
Clean Regulator
SRH
Air-conditioning Duct Control / Raw Material Quantity Control
Use
Item name
Series
Duct opening control
Valve opening control
Instrumentation system
Electro-Pneumatic Positioner
IP8000 / 8100
Precision Regulator
IR1000 / 2000 / 3000
Points and Precautions for Selection
• When using in an explosion-proof area, please select explosion-proof equipment.
• Please use a low-power-consumption solenoid valve if you plan to keep the solenoid valve energized for extended periods of time. Please refer to page 26 for details.
• Using equipment in a solvent atmosphere may result in diminished product quality, so please check the specifications and materials of the model.
• When using equipment at high temperatures or in a solvent atmosphere, please check the specifications (operating temperature, materials, etc.) of the model before using.