|

4. Rolling

Introduce several rolls, fix the dimensions and roll up the sheet.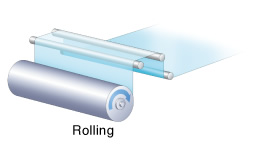 Tension Control
Points and Precautions for Selection
• A low slide-resistance cylinder and a high-precision pressure control are necessary for tension control. Please use in combination with a low-friction type cylinder and precision regulator or electro-pneumatic regulator.
Preventing Attachment of Foreign Objects
Use
Item name
Series
Anti-static electricity
measures
Ionizer
IZS40 / 41 / 42
Clean blow
Clean Air Module
LLB
Points and Precautions for Selection
• Static electricity can cause various phenomena including adhesion or attachment of foreign objects when rolling. Please use an ionizer to neutralize static electricity.