HRS HRS-R HRS090 HRS200 HRS100/150 HRSH090 HRSH HRL HRSE HRR HRZ-F HRZ HRZ
(Inverter type)
Thermo-chiller/High-performance Inverter Type HRZ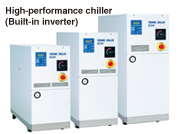 ・In addition to the state-of-the-art functions of the HRZ series, these models employ a DC inverter compressor to achieve better energy efficiency.
・A wide temperature range and cooling capacity range are covered by one unit.
・Suited to the short innovation cycle of semiconductor equipment,
 Capable of responding flexibly to changes in the process conditions
・Compliant with UL Standards, SEMI Standards, CE-marking

∗ The HRZ series will be discontinued in December 2022.
 Please select the HRZ-F series.

2D/3D CAD

The new SMC CAD SYSTEM, CADENAS, allows you to output 2D/3D CAD data with full part numbers in various data formats. Responses to part number selection has been greatly improved with the newly developed system.

Click here for 2D/3D CAD

Thermo-chiller/High-performance Inverter Type HRZ

Manual

Thermo-chiller/High-performance Inverter Type HRZ-K-E

DoC
Series
Set temperature
range
Cooling
capacity
Temperature
stability
Cooling
method
Circulating fluid
HRZ
−20 to 90℃
10 to 60℃
10 kW
±0.1℃
Water-cooled
refrigeration
Fluorinated, Tap water, Deionized water,
Ethylene glycol aqueous solution (60%)