|

Makes cooling water easily available, anytime, anywhere.
There is no cooling tower.
Tap water is being used.

Even without a cooling tower, an air-cooled refrigerated chiller can be used to easily supply cooling water. Water bills can be lowered.
There is a cooling tower, but high temperatures in summer or low (freezing) temperatures in winter make cooling water temperatures unstable.

Cooling water at a consistent temperature can be supplied regardless of the season.
I would like to use the equipment in a small room, like a laboratory or study room.

Compact types which can be installed on or under a desk are also available. Compatible to physical and chemical/analytical equipment.
|

What's a Chiller?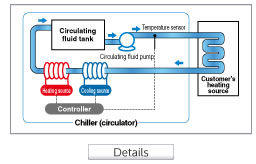 A Chiller is equipment to control temperature of customers' heating sources.
Chillers control fluid, such as water, and circulate the fluid to customers' machine using a pump by controlling the output from a cooling source such as a compressor, or a heating source such as a heater. That's why this equipment can be also called a circulator.
|

Application examples of chillers

Chillers are used with the following equipment and instruments

Laser machining UV curing device (printing, painting, bonding and sealing) X-ray (digital) instrument Electronic microscope Laser marker Ultra sonic wave inspection machine Atomizing device (food and cosmetics) Linear motor Packaging line (sealing of film and paper package) Cooling of die Temperature control of paint material Cooling of vacuum pump Shrink fitting machine Gas cylinder cabinet Concentrating equipment Reagent cooling equipment Cleaning tank Temperature control of chamber electrode Physical and chemical equipment Arc welding machine Resistance (Spot) welding machine Electric furnaces Laser oscillator Laser power sensor Transmission cable connector for fiber laser
|

SMC Temperature Control Equipment