|

Peltier-Type Thermo-con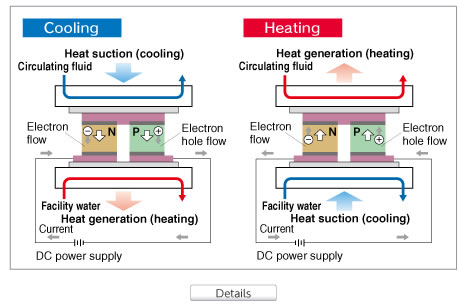 For high-precision temperature control Temperature stability: ±0.01°C to 0.03°C
Generates little vibration, and is refrigerant-free and environmentally friendly. Can control the temperature just in front of the heat source using the external temperature sensor.
A Peltier device is a plate type element, inside which P-type semiconductors and N-type semiconductors are located alternately.
Therefore, changing the direction of the current supplied to the Peltier device can achieve heating and cooling operation. Temperature can be controlled very precisely because this method has a fast response and can switch quickly.
|

Peltier-Type Thermoelectric Baths
Accurately controls the temperature of liquid in the bath.
Temperature stability: ±0.01℃ to 0.03℃
This equipment precisely controls the temperature of the fluid in the constant temperature tank.
Customers can control the temperature by placing a container in the tank.