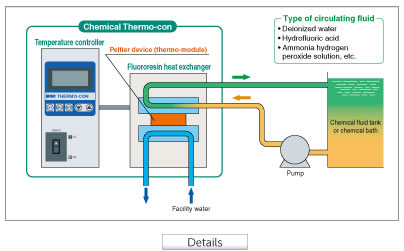 Fluororesin heat exchanger allows direct temperature control for chemical liquids!!
Industry-leading withstand pressure 0.35 MPa!!
Peltier-Type Chemical Thermo-con
HED
・Heat exchanger for direct temperature control that uses a Peltier device
・Compatible with a wide range of chemical liquids through the use of a fluororesin
 heat exchanger
・Compliant with CE-marking

Product Number Check
Series
Set temperature
range
Cooling
capacity
Temperature
stability
Cooling method
Circulating fluid

HED

10 to 60℃

300 W, 500 W, 700 W

±0.1℃

Peltier-type water-cooled

Deionized water,
Fluorinated fluid Ammonia hydrogen peroxide solution,
etc.
Peltier-Type Chemical Thermo-conHED