Global Network
EU
Switzerland
SMC Schweiz AG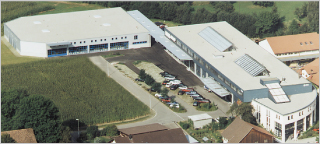 SMC Schweiz AG
Dorfstrasse 7, Postfach, CH-8484, Weisslingen, Switzerland
Phone: +41-052/396-31-31
Fax: +41-052/396-31-91
e-mail: helpcenter@smc.ch
URL: http://www.smc.ch/
Number of employees
Approx.110
Managing Director
Daniel Langmeier
Head office /
Factory building
Land area:11,760m2
Floor space:6,182m2
ISO certification
ISO 9002
When founded in 1976, SMC Schweiz AG had four employees. Now the company has grown to over 110 employees.
SMC Switzerland has a service network consisting of the head office, 1 regional sales office, and 24 distributors and dealers providing customers with fine-tuned services.
Besides of a comprehensive local stock of standard products, their facility in Weisslingen produces various types of standard cylinders for the domestic market. To fulfill specific customer requirements, assembly work is performed for valves, valve manifolds, air preparation equipment.
Furthermore, individual customer solutions such as complete systems such as control cabinets and panels and the like are produced locally.
Not only does SMC Switzerland's Engineering Department supervise every process from product planning to manufacturing, but they also provide customers with engineering solutions and examples of specific applications meeting customers individual needs.
Yverdon branch
Y-Parc 15 Avenue des Sciences
CH-1400, Yverdon-les-Bains.
Phone: +41-021/903-03-03
eMail: helpcenter@smc.ch

地図を表示