Global Network
EU
Germany
SMC Deutschland GmbH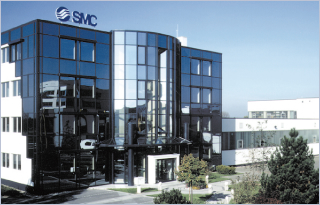 SMC Deutschland GmbH
Boschring 13-15, 63329 Egelsbach, Germany
Phone: +49-6103/402-0
Fax: +49-6103/402-139
e-mail: info@smc.de
URL http://www.smc.de
Number of employees
Approx. 775
Managing Director
Daniel Langmeier
Head office /
Factory building
Land area:117,000m2
Floor space:50,000m2
*Currently old and new buildings / land.
ISO certification
ISO 9001, ISO 14001
SMC Deutschland GmbH was founded in 1978.
With its headquarters in Egelsbach, just outside of Frankfurt, SMC Germany conducts product development as well as sales and the provision of user services.
The factory adjoining the head office supplies markets throughout Europe with compact cylinders, compact guide cylinders, and cylinders compliant with the ISO standards.
Their Quality Management System has been certified as complying with the DIN ISO 9001:2015 and DIN ISO 14001:2015 standards.
SMC Germany has regional sales offices in Bielefeld, Leipzig, Düsseldorf, Frankfurt, Karlsruhe, Villingen-Schwenningen, Nürnberg, and München. With a sales network comprised of 42 distributors with sales offices offering a variety of product inventories, SMC Germany offers services that are fine-tuned to satisfy customers' needs and to meet short deadlines.
North Region
East Region
North-West Region
West Region
South-West Region
South Region
South-East Region