Global Network
USA
Mexico
SMC Corporation (Mexico), S.A. de C.V.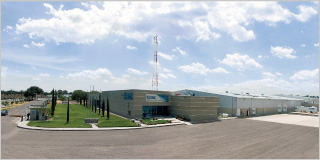 SMC Corporation (Mexico), S.A. de C.V.
Carr Silao Trejo Km 2.5 SN Predio San José del Durazno, Silao de la Victoria Guanajuato 36100 Mexico
Phone: +52-472-72-2-55-00
Fax: +52-472-72-2-59-44
URL http://www.smc.com.mx
Toll-free number : 01(800)22-76269
Number of employees
Approx. 270
General Manager
Luis Jordan Pérez
Sales Manager
Fernando Vega
Head office /
Factory building
Land area:227,993m2
Floor space:12,791m2
SMC Corporation (México), S.A. de C.V. launched their service in 1992 with 10 staff members. The number of their staff has now increased to 270 with 14 sales branches and 35 distributors across the country, and with this structure they are now able to provide a more accessible service to their customers. In order to ensure that customers can use their products with confidence, they endeavor to provide a variety of services such as survey and improvements on energy saving, introduction of the latest products by demo van, as well as the provision of training.