ISO Valves
5-Port Solenoid Valve/ISO Standard VQ7-6/7-8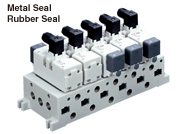 ・Compliant with ISO Standards
・Manifold type no.: VV71, VV72
・Supports Interface regulators
2D/3D CAD

The new SMC CAD SYSTEM, CADENAS, allows you to output 2D/3D CAD data with full part numbers in various data formats. Responses to part number selection has been greatly improved with the newly developed system.

Click here for 2D/3D CAD

5-Port Solenoid Valve/ISO Standard VQ7-6/7-8

Manual

5-Port Solenoid Valve/ISO Standard VQ7-6/7-8

DoC
Series
Flow rate characteristics
4/2→5/3(A/B→EA/EB)
C[dm3/(s・bar)]
Flow rate characteristics
4/2→5/3(A/B→EA/EB)
b
Flow rate characteristics
4/2→5/3(A/B→EA/EB)
Cv
Applicable
cylinder size
Power
consumption
(W)
VQ7-6
6.0
0.11
1.4
φ100
1.0
VQ7-8
13
0.27
3.3
φ140
1.0
Features
■Conforms to ISO standard 5599/I
Interface conforms to ISO standard Size 1 (VQ7-6) and Size 2 (VQ7-8).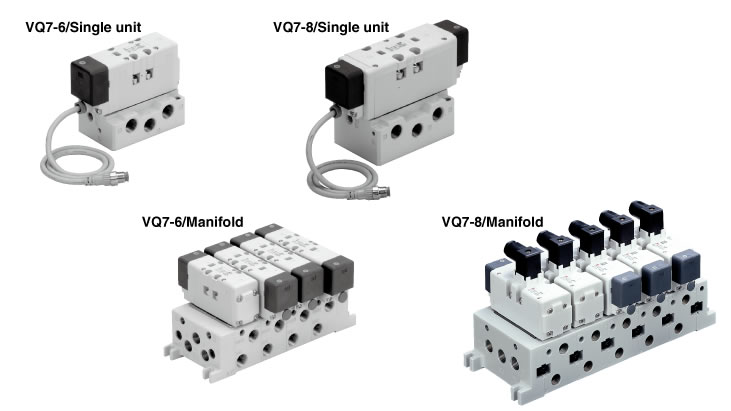 ■Enclosure IP65 compliant Dusttight/Low jetproof type
■A wide variety of manifold options
Manifolds can be configured with a wide range of interface options to meet a variety of application requirements.
■Lighter weight
Size 1 (3 position) 0.48 kg ···24% less*
Size 2 (3 position) 0.75 kg ···15% less*
*Compared with previous series
■Space-saving profile
Installation space······13% reduction*
Installation volume···· 10% reduction*
*Compared with previous series
■Choice of metal or rubber seal increases compatibility with various operating and environmental conditions.