-
Film Manufacturing Process Equipment

|

6. Coating

Film is coated with various types of solvents, depending on the application.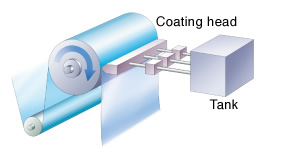 Stainless Steel High Vacuum Angle/In-line Valve
XM/XY
・The precision casting, unified composition prevents the accumulation of gas.
・The XM series is interchangeable with the XL series aluminum high
 vacuum angle valve.

Note) Size 16 is not available for the in-line type.
Series
Actuation
Shaft seal
system
Valve
type
Material
Flange
size

XMA/XYA

Air operated

Bellows seal

Single acting
(N.C.)
Body : SCS13 (equivalent to
stainless steel 304)
Bellows : Stainless steel 316L

16 to 80 Note)

XMC/XYC

Air operated

Bellows seal

Double acting

Body : SCS13 (equivalent to
stainless steel 304)
Bellows : Stainless steel 316L

16 to 80 Note)

XMD/XYD

Air operated

Bellows/O-ring
seal
Single acting
(N.C.)
Body : SCS13 (equivalent to
stainless steel 304)
Bellows : Stainless steel 316L

25 to 80

XMH/XYH

Manual

Bellows seal

Manual

Body : SCS13 (equivalent to
stainless steel 304)
Bellows : Stainless steel 316L

16 to 50 Note)
Stainless Steel High Vacuum Angle/In-line ValveXM/XY
| Series | Download |
| --- | --- |
| XMA/XYA | |
| XMC/XYC | |
| XMD/XYD | |
| XMH/XYH | |