WEB Catalog
My List
My List Guide


Product List
Subject ⁄ Industry Classified Products
Adobe Flash Player(v16 or later) is required to view the catalog.


Thermo-chiller/Rack Mount Type
HRR
・Operable without the need to remove the unit from the rack
・Front access: Simple to control, service, and maintain with all filters
 and drainage accessible via the front panel
・Space saving: Multiple chillers can be mounted to a 19-inch rack.
・Cooling capacity: 1.1/1.2/1.8/2.4/3.0/5.1 kW (60 Hz)
・Temperature stability: ±0.1℃
・Global power supply:
 Single-phase 100 VAC (50/60 Hz)/115 VAC (60 Hz)
 Single-phase 200 to 230 VAC (50/60 Hz)
Series
Set temperature
range
Cooling
capacity
Temperature
stability
Cooling method
Circulating liquid

HRR

5 to 35℃
15 to 35℃
1.1 kW
1.2 kW
1.8 kW
2.4 kW
3.0 kW
5.1 kW

±0.1℃

Air-cooled refrigeration
Water-cooled refrigeration
Tap water
Ethylene glycol aqueous solution (15%)
Thermo-chiller/Rack Mount TypeHRR

■Operable without the need to remove the unit from the rack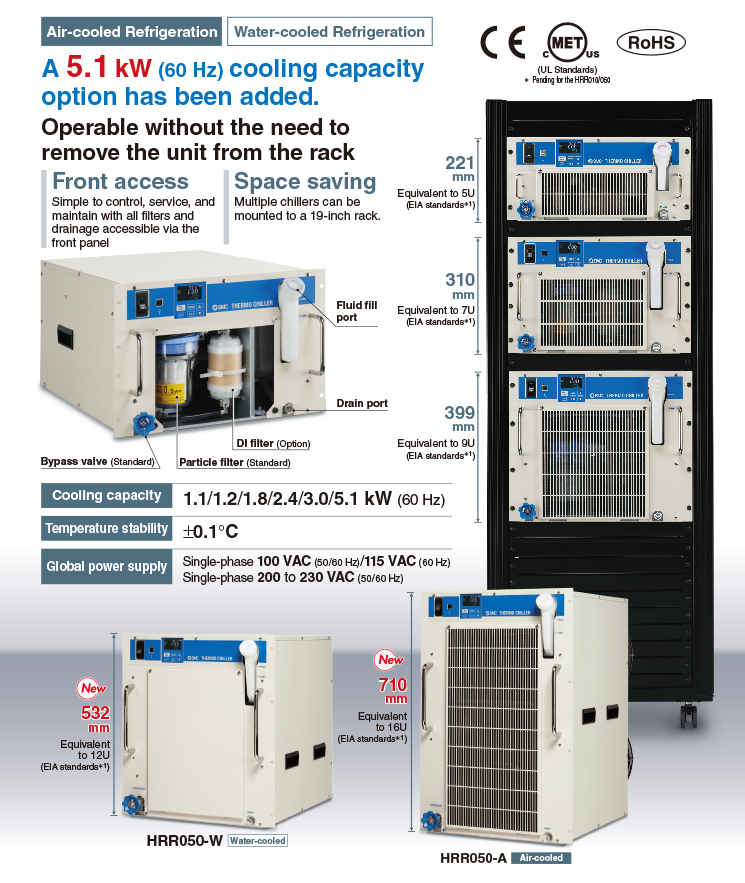 ■Front Access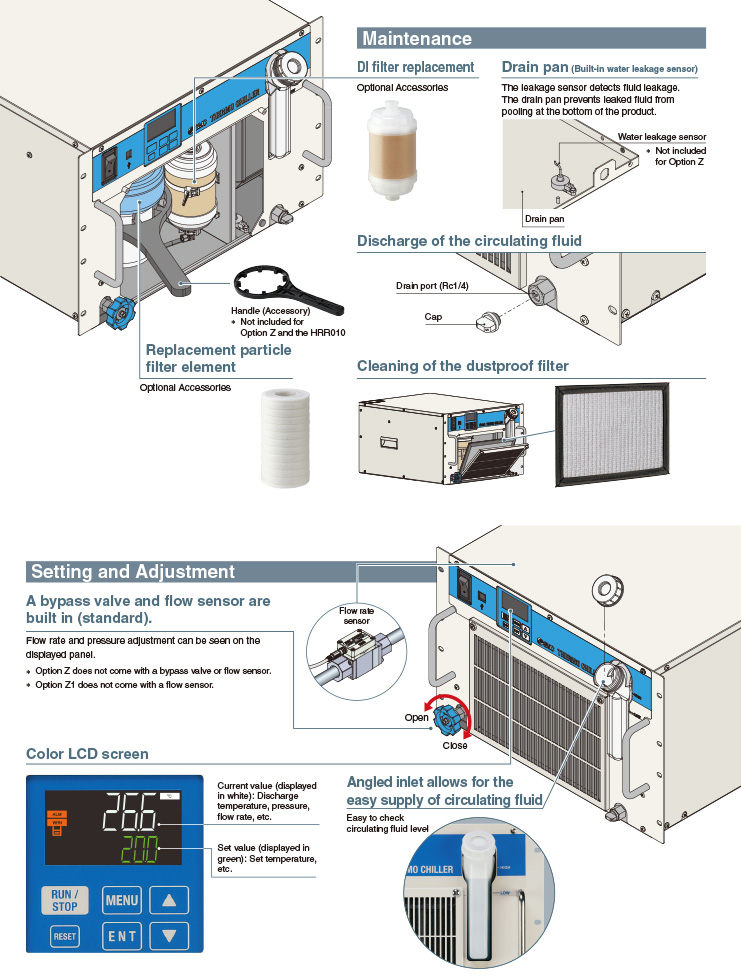 ■Space Saving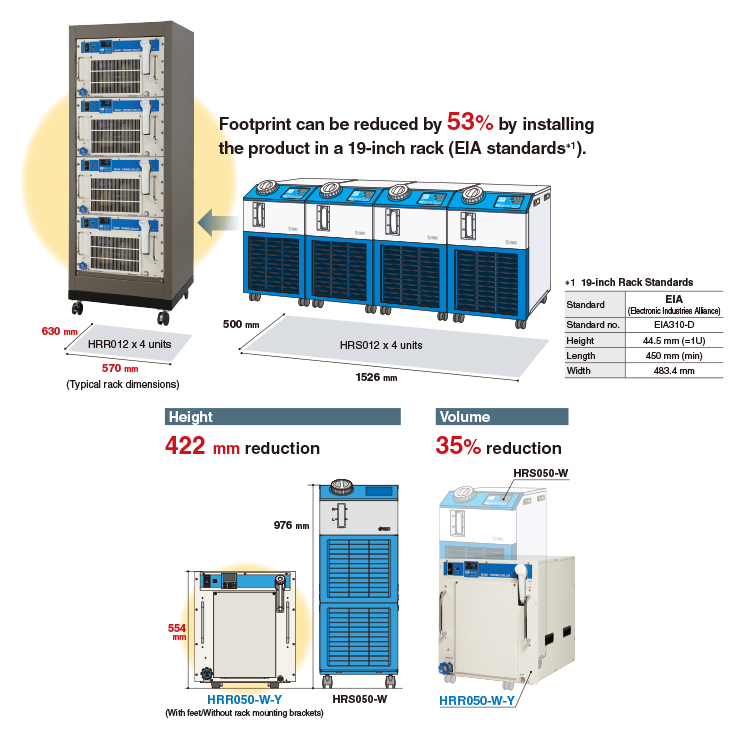 ■Caster Adjuster-foot Kit (Optional accessory)
New
Applicable for installation in locations other than 19-inch racks. This is a set of unfixed casters and adjuster feet stop.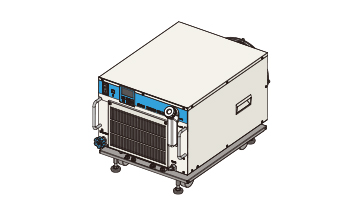 ■Temperature stability: ±0.1ºC
A precision temperature control method which utilizes expansion valves and temperature sensors allowed for the realization of a product with a high temperature stability of ±0.1°C.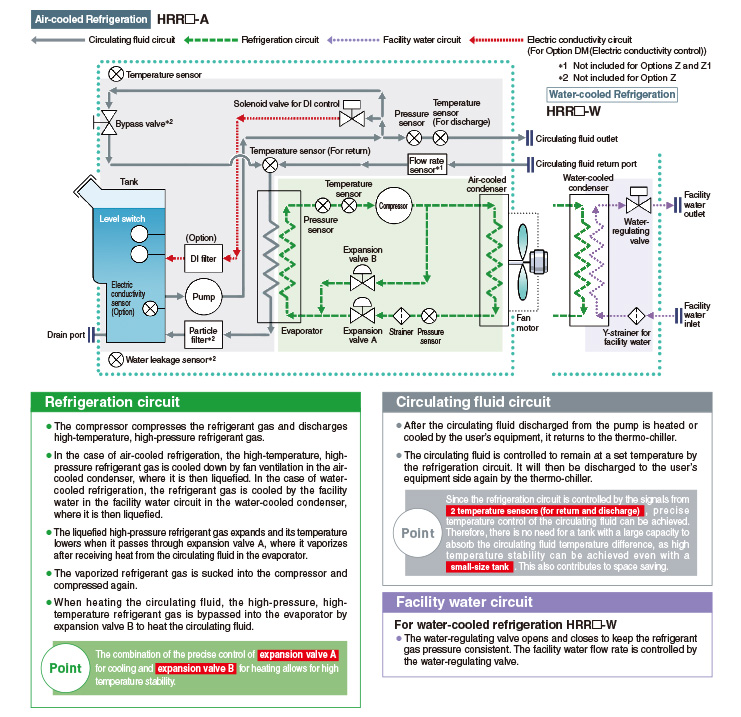 ■Self-diagnosis function and alarm code display
Display of 24 types of alarm codes Operation is monitored at all times by the integrated sensor.
The applicable alarm code (24 types) is displayed after self-diagnosis.

■Menu for maintenance schedule
When it is time for periodical checks of the pumps, fan motor, dustproof filter, etc.,
a maintenance code will be generated as a reminder. Helpful for facility maintenance

■Displaying screen for operating conditions
Thermo-chiller internal temperature, pressure, etc., can be displayed.

■With heating function
As the heating method uses discharged heat, a heater is unnecessary.
The heating function is effective in maintaining a constant temperature, particularly in the winter when the ambient temperature is low.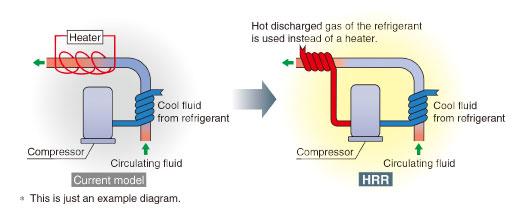 ■Communication functions
Serial communication (RS-232C/RS-485) and contact input/output signals (2 inputs and 3 outputs)
are equipped as standard. This allows for communication with the user's equipment and system construction, depending on the application.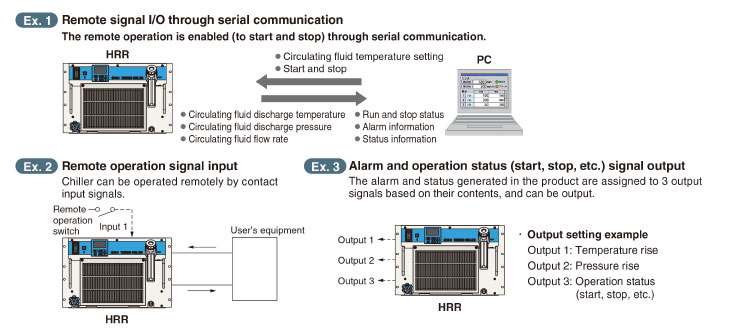 ■Inverter specification mechanical sealless pump (HRR010 option)

■Power supply (24 VDC) available

■Variations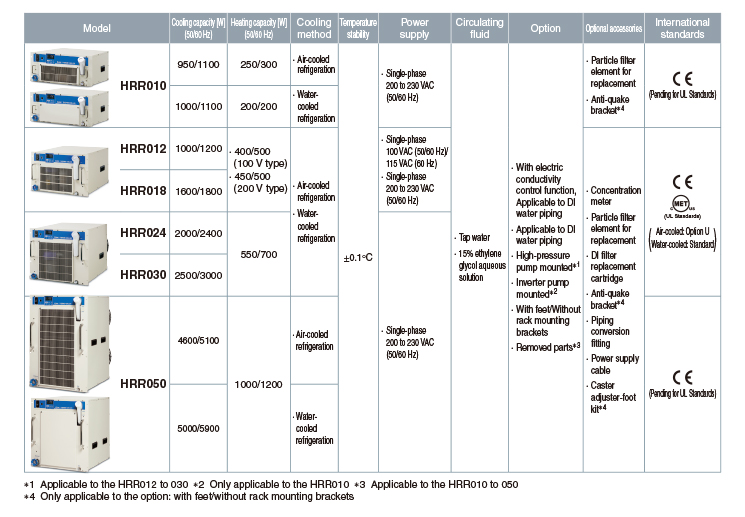 ■Application Examples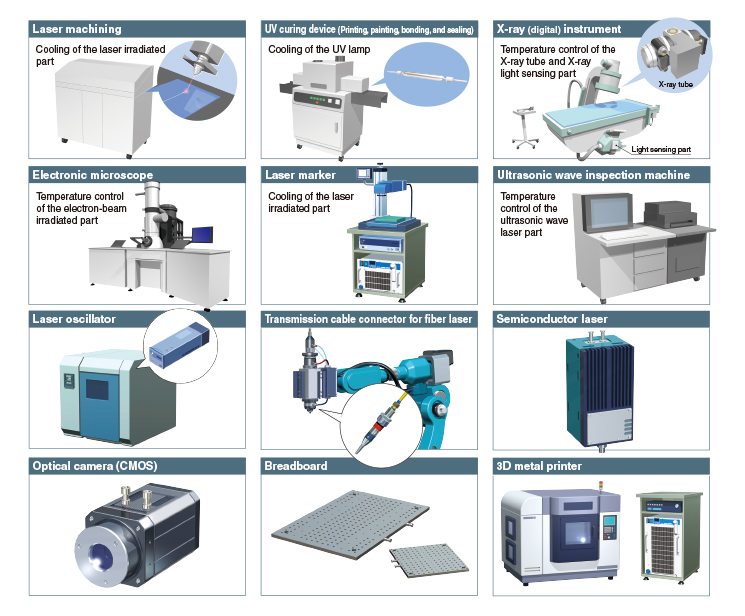 ■Global Supply Network
SMC has a comprehensive network in the global market.
We now have a presence of more than 560 branch offices and distributors in 83 countries and regions worldwide. With this global network, we are able to provide a global supply of our substantial range of products and high-quality customer service. We also provide full support to local factories, foreign manufacturing companies, and Japanese companies in each country.

■Circulating Fluid/Facility Water Line Equipment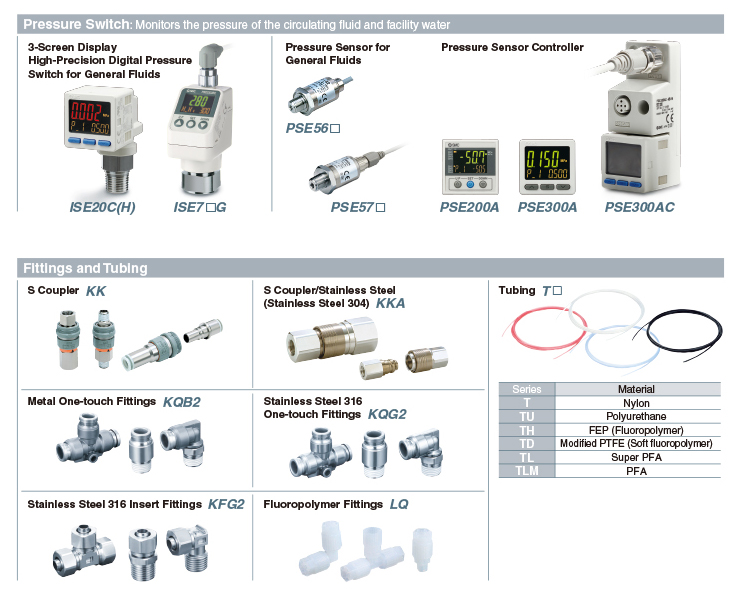 ▲Page top