SMC's global engineering network: Featuring technical centers in the U.S., Europe, China, and Japan
Following the basic concept of developing products from the customer's standpoint, SMC dedicates a great deal of staff and financial resources to research and development. This is undertaken to promote research on basic technology with future potential and to produce products that meet the needs of the marketplace in a timely manner. To provide speedy solutions to all our customers'problems, technical centers have been established in the U.S., Europe, and China, creating a powerful global engineering network with Japan as its nucleus. All of our technical centers keep in close contact, constantly exchanging information in order to quickly respond to local demands and offer the same standard of technical service quality throughout the world.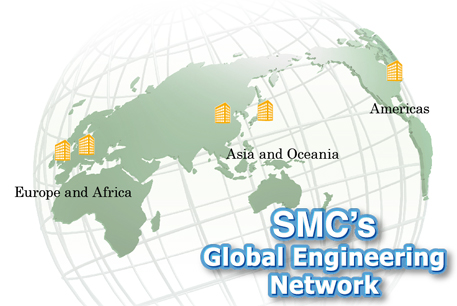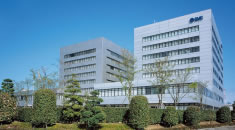 JTC (Japan Technical Center)
Japan
The JTC is staffed with 1,200 employees and is the center of SMC research and development. It produces new products for the global market based on customers'current and future needs.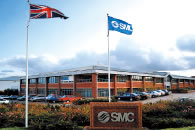 ETC (European Technical Centre) United Kingdom
The ETC was established in the existing SMC UK factory site in Milton Keynes. Here, approximately 70 experienced staff members from a number of SMC European subsidiaries work together to handle projects from their respective countries. This has enabled improved communication, faster and more accurate information exchange, and a higher level of customer satisfaction in the region.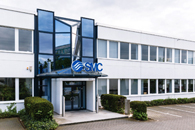 GTC (German Technical Centre) Germany
Situated in Germany, the industrial center of Europe, the GTC and its 80 employees develop products and provide technical services by quickly responding to the needs of the region's customers.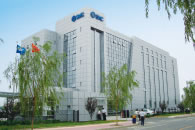 CTC (China Technical Center) China
The CTC's 120 employees are reinforcing the system through product development and technical services in order to quickly respond to the Chinese market's wide range of needs and requirements.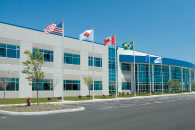 UTC (U.S. Technical Center) United States of America
The UTC is enhancing engineering capabilities in order to more quickly respond to the needs of the North American market through product development and technical services. At present, there are approximately 140 employees tasked with dealing with the various needs of customers in the region.
SMC's staff of 1,450 experienced engineers provides quick solutions for our customers' specific needs
As demonstrated by merging with the most advanced fields, typified by the information technology industry, expanding to life science fields, environment responsiveness, and energy saving activities, pneumatic control is entering a new era of high technology. SMC is responding with improvements in quality, precision, durability, and incorporating multiple high level functions, miniaturization and new materials. We pursue research and development in multiple fields, producing a succession of new products to satisfy customers' specified demands. In addition, we make products that can be applied worldwide by considering international standards from their inception. Our highly qualified engineering staff, comprised of specialists from every field, is ready to give prompt and detailed solutions to the diverse needs of our customers.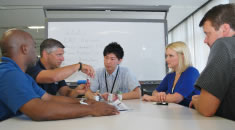 Meeting
CAD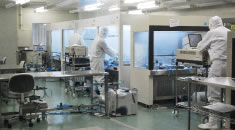 Clean Room