Quality Management System
SMC (Thailand) Ltd. has been certified to standard of quality laid down by URS, UKAS ISO 9001:2015 to assure that all services provided will meet the requirements specified by our customer and URS, UKAS ISO 140001 is to ensure that all activities, products and services will meet all ISO 14001requirements.
・ISO9001:2015
・ISO14001:2015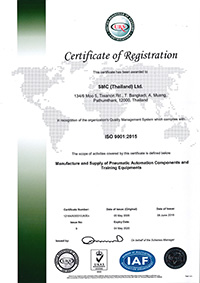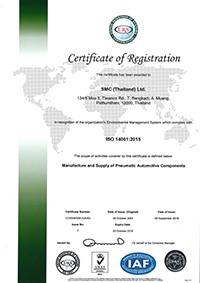 "We are the First Pneumatic Automation Company in Thailand to achieve ISO 9001:2008& ISO 14001:2004"
We also concentrate in delivery standard service to response your need as following;
1.Delivery within 3 working days for existing stock goods in Thailand
2.Delivery within 5 working days for tailored made goods at local production.
3.Delivery within 10 working days for existing stock goods in Japan.
4.Delivery within 2-3 weeks for imported goods via air freight.
5.Delivery within 6-8 weeks for imported goods via sea freight.

Should you have further inquiry, please contact our sales engineer
at Tel. 0-2019-5656 Fax.0-2501-1372.

Quallity Policy
Go forward by bringing together the wisdom of SMC's all employees setting out to have business structure first and quality first

1.Customer first
 Aim at prompt action to the customer's demand and providing service that satisfies the customer.

2.Plan Initiative
 Each employee shall devote to "Quality Priority" and ensure to execute PDCA for the quality
 improvement for each post.

3.Upstream Control
 To establish the quality assurance system by the upstream control, try to grasp thoroughly
 the problems at the early state and improve them.

4.Full Participation
 Every employee must recognize and participate in the quality system activity.
 Every employee recognizes his/her own responsibility to realize the quality that the customer requests.

Act for the quality improvement with full participation.

To achieve these quality policies, establish the quality management system on which all related employees can act. Aim at continual improvements of these quality policies by maintaining and promoting the system.