-
Sustainable Management of CO2

SMC implemented energy saving, environmentally friendly, and organizational efforts in 1998 to acquire ISO 14001 international environmental management standard certification in December, 1999.
Energy Consumption & CO2 Emissions
Within our business activities, the use of electricity is the largest source of SMC's CO2 emissions.
SMC's aim is to reduce our CO2 emissions with our steady, cumulative energy-saving efforts.
【CO2 emission reduction status (standard value)】

Proper Management of Chemical Substances
SMC is striving to eliminate the use of CFCs by switching to alternatives with lower GWP values, and to reduce the overall use of chemical substances (with evaporation prevention, removal prevention, and reuse.)
【Waste discharge status】

【Use of chemical substances and emissions
 into the environment】

【Waste discharge reduction status】

【Trends of annual emissions to the
 environment】
Regarding Specific Business Units
SMC is designated as a Specified Business under the Act on Rationalizing Energy Use. Furthermore, our Soka 1st Factory, Tsukuba 1st Factory, Tsukuba Technical Center, Kamaishi Factory, Kamaishi 4th Factory, Tono Factory and Yamatsuri Factory are designated as Designated Energy Management Factories since the energy consumption for each factory is greater than or equal to 1,500 kL (crude oil equivalent) per year.
Specified Businesses and Designated Energy Management Factories are obliged to establish targets to reduce their energy consumption by at least 1% per year, as well as to manage energy consumption on an organizational basis and submit periodic reports.
Industrial Waste Reduction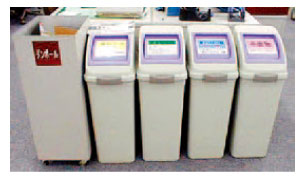 SMC practices strict waste sorting and promotes the 3Rs - Reduce, Reuse and Recycle. SMC sells computers and printers that are no longer used to recyclers for their material value. We aim to reduce our waste disposal costs by transforming waste into valuable resources.
【Sorted Material Examples】
・plastic waste ・paper ・vinyl chloride ・rubber
・noncombustible items ・corrugated boards
Material Balance
SMC keeps track of the environmental burdens generated through the consumption of resources and energy during the design, development and manufacturing of our products.

*1 CO2 from production activities is the amount of CO2 emitted from use of energy.
*2 Recycle refers to the amount that is discharged as material of value and reused and/or recycled as materials and thermal energy.
Compliance with Environmental Regulations
The operators who take custody of electrical equipment containing polychlorinated biphenyl (PCB) must properly dispose of it by March 31, 2027. SMC has held five devices containing low levels of PCB and seven devices containing high levels of PCBs. However, in FY2018, SMC correctly disposed of devices containing PCBs.
Individual Factory Initiatives
SMC utilizes its own flow switches to monitor the flow rates within each factory to allow for early detection of air leakages due to equipment failures. We are also working on improving our energy efficiency. Our efforts include the use of mechanisms that automatically shut off the air sources during plant downtimes. This has reduced the use of purge air* by 30% (compared to previous operations).
* The air used to discharge the remaining air from air pipes when a plant starts operation.
Green Procurement
SMC recognizes that environmental conservation is a common global concern for all humanity. It is a matter that demands top management consideration. SMC shall develop and supply environmentally friendly products to continually reduce our environmental burden in accordance to our fundamental philosophy: "SMC strives to undertake environmental conservation activities through pneumatic technology that contributes to automation in all fields of industry in order to pass down a sustainable global environment to future generations". As part of its initiatives, SMC conducts green procurement of products, materials, components, semi-finished goods, secondary materials, and packaging materials used within the design, development and production process.