Product Information »
WEB Catalog
IN_PROD_346
» Search result
MGPL50-X2616
There were no hits with the full part number, but there were 1 hits in the keyword search.
Locating Pin Cylinder MGPL50-X2616
Air Cylinders
»
Pin Shift Cylinder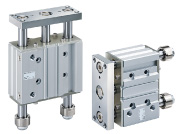 Features
・Ideal for pin positioning and locating workpieces
・Highly accurate mounting positions
 Highly accurate positioning is possible even after the cylinder is replaced.
・D-P3DWA magnetic field resistant auto switch is available.
・Coil scraper is equipped as standard.
2D/3D CAD

The new SMC CAD SYSTEM, CADENAS, allows you to output 2D/3D CAD data with full part numbers in various data formats. Responses to part number selection has been greatly improved with the newly developed system.

Click here for 2D/3D CAD
| Type | Bearing | Series | Action | Bore size (mm) |
| --- | --- | --- | --- | --- |
| Locating pin cylinder | Ball bushing | MGPL50-X2616 | Double acting | 25, 40, 65 |